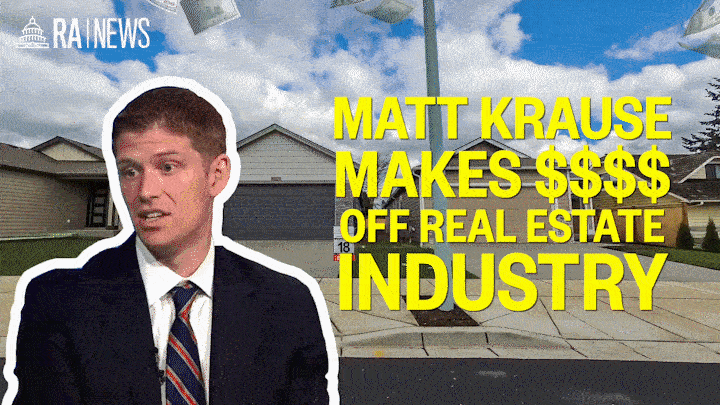 Donations are a necessary evil when running for elected office. While some elected officials can't refuse special interest money, they can choose how they respond to contributions. Special interest money becomes a conflict of interest when elected officials vote in favor of their donors instead of their constituents. Everyday taxpayers cannot compete with the financial largesse of powerful business interests and wealthy individuals.
In the case of House District 93 State Representative Matt Krause (R-Fort Worth), the real estate industry is leading the charge.
According to the National Institute on Money in Politics, a non-partisan organization which tracks campaign contributions to federal, state and local candidates across the country, Krause has collected campaign contributions totaling almost $1.2 million. Krause's donations come from a variety of industries, some of his largest include real estate and construction industries, with combined contributions of over $44,000, and anti-consumer PACs, who have contributed $42,000. Lobbyists nearly matched that amount with $42,000. Seemingly, Krause repaid their political investments by voting for their agenda in the legislature. 
Following the passage of a 2014 Austin city ordinance outlawing discrimination against Section 8 voucher-holders and news of Dallas considering a similar measure, lobbyists for the apartment industry pushed for a state ban on Section 8 discrimination bans. In 2015, a bill was filed in the Legislature to ensure "landlords cannot be punished for discriminating against families with vouchers." Krause – whose re-election campaign received thousands from the apartment association in the fall prior – voted for the bill.
During the 2017 legislative session, Krause voted for HB 1449, which prohibited cities and counties from imposing linkage fees on new construction. These fees are regularly used to provide affordable housing opportunities for the community, as the cost burden for renters in the Dallas-Fort Worth area is increasing.
In 2019, Krause voted twice in favor of HB 2439, which would limit cities' ability to regulate construction of housing and commercial buildings.
His donations don't stop at real estate. Krause's largest individual industry donor has been the tort reform lobby, Texans for Lawsuit Reform (TLR). Over the years, TLR has donated over $34,000 to Krause's campaigns. Krause joint-authored TLR's top legislative priority through the House. HB 2826 gives the attorney general outright authority to determine who will represent a local governmental entity in construction defect lawsuits involving general contractors, architects, and engineers rather than its own governmental body. The legislation became effective on September 1, 2019.
After a session TLR considered "one of the most successful in a decade," they endorsed his 2020 re-election bid and donated $20,000 to his campaign, their largest donation to Krause as of July 2020.
Millions of Texans have been laid off and are struggling to make ends meet while Matt Krause has repeatedly demonstrated his allegiance to the special interest groups who finance his campaigns. When Texans send representatives to Austin, we expect those officials to advocate for us, not special interests who contribute to their campaign coffers.