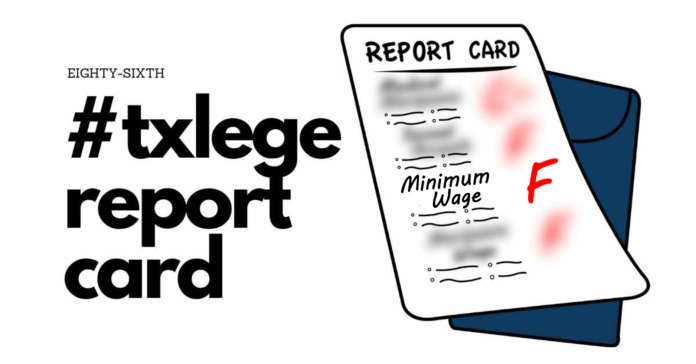 Proposed minimum wage increases received minimal effort in Texas' 86th Legislative Session.

For more than a decade, the Texas minimum wage hasn't budged from the federal minimum wage rate at $7.25 per hour. As cost of living continues to climb, many states have made great strides in passing legislation to raise their minimum rates, with eighteen states beginning 2019 with higher wages. There is now a total of 29 states with minimum wages greater than the federal rate.

A single adult in Texas would have to earn $11.48 per hour to make a living wage, according to the Massachusetts Institute of Technology Living Wage Calculator. The living wage is nearly doubled for a single adult with one child. In 2017, the Bureau of Labor Statistics reported that 196,000 workers in Texas were earning at or below $7.25 per hour – significantly less than a livable wage for just one adult.

Additionally, there is a severe shortage of affordable housing options for full-time minimum wage workers in Texas. For instance, an individual would have to work 2.2 full-time jobs to afford a 1-bedroom rental home at fair market rent.

Of more than fifteen bills and resolutions filed this session to raise the minimum wage, only two received committee hearings. Rep. Ron Reynolds' (D-Missouri City) House Bill 194, a proposed $15 per hour minimum wage, was left pending in committee. Rep. Senfronia Thompson (D-Houston) authored the second bill left pending in committee, House Bill 290, which called for a $10.10 per hour minimum wage.

Rep. Thompson, who also authored the original bill that tied the state's minimum wage to the federal minimum wage, recognizes the need for an increased rate. In an article by the Texas Tribune, Thompson says, "working people of Texas still have not received any substantial pay increase, but the cost of living and cost of goods and services keep going up".

Rep. Lina Ortega, (D-El Paso) filed House Bill 328, which would allow local governments to pass higher minimum wage laws. The bill was left pending in committee in early April.

The only real change made to Texas minimum wage laws this session was Senate Bill 753. This bill requires community rehabilitation programs (CRPs) to develop a plan to increase wages paid to workers with disabilities to the federal minimum wage by September 1, 2022. Currently, CRPs are able to pay workers with disabilities less than the federal minimum wage. And unfortunately, workers with disabilities will likely have to wait another two years to be paid an inadequate $7.25 minimum wage.

As legislators revel in their self-proclaimed superior session, it is our job to hold them accountable and ensure they are passing legislation that benefits the people that elected them.
Accountability Assessment

For minimum wage efforts in the 86th Texas Legislature, Reform Austin gives lawmakers an F.