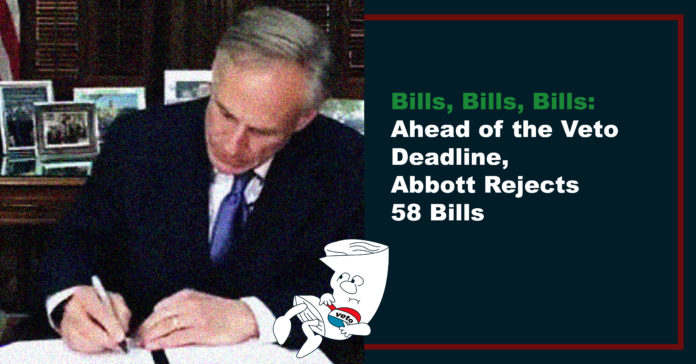 Gov. Greg Abbott had vetoed a total number of 58 bills- including two corresponding resolutions- passed by the 2019 state Legislature. While both chambers can come to agreements on bills and amendments throughout the legislative session, the Governor retains the right to either sign or veto any of the bills that made their way to his desk, or simply allow them to become law without his signature.

Of the 1,429 bills sent to Gov. Abbott, 35 were authored by Democrats which is in contrast to the 16 vetoed by Republican legislators. Among the bills, one controversial move by Gov. Abbott included vetoing a bill that would have required children under 2-years-old to be buckled into a rear-facing car seat while in the moving vehicle.

Citing legislative overreach and parental micromanagement, Abbott ignored best practice safety guidelines from the Texas Department of Public Safety, the Department of Transportation, Department of State Health Services, and several expert medical and public health organizations with the rejection of HB 448, authored by Rep. Chris Turner (D-Grand Prairie).

Another misstep by Gov. Abbott included vetoing SB 1804, a bill that would have helped domestic violence survivors by requiring their abusers' bond information to be recorded in a statewide data repository. The survivors would have been notified when domestic violence offenders were released on bond, but an amendment on radioactive waste disposal used Gov. Abbott to reject the bill outright.

While unrelated the amendment, added by Rep. Poncho Nevárez (D-Eagle Pass), would have allowed a local West Texas waste facility to remain competitive with other sites by delaying surcharge increases and a state fee paid by private operators.
Other bills vetoed include HB 70, which would have allowed the Department of Agriculture to create a strategic plan to prevent crop disease and increase pest prevention; HB 651, allowing counties not served by a hospital district to create a county health care provider participation program; and HB 455, requiring the Texas Education Agency to develop constructive, age-appropriate activities for recess, among the full list of bills vetoed.