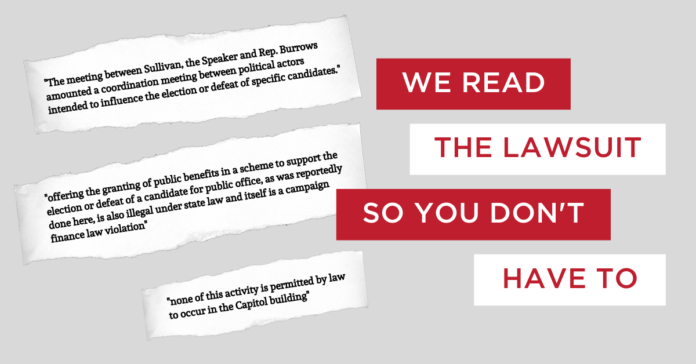 The Dennis Bonnen drama with Empower Texans' Michael Quinn Sullivan has escalated from scandal to full-fledged lawsuit, as the Texas Democratic Party sues House Speaker Dennis Bonnen and hardline conservative Michael Quinn Sullivan for allegedly violating numerous state election laws.

The civil suit, filed in Travis County by the Texas Democratic Party and Representative Ana-Maria Ramos (D-Richardson), seeks damages and materials from defendants Michael Quinn Sullivan and an Unknown Named Political Committee, which includes the Speaker of the House Dennis Bonnen (R-Angleton) and representative Dustin Burrows (R-Lubbock).

These are the highlights from the filed lawsuit:

The lawsuit, combined with the House General Investigating Committee's investigation scheduled to begin Monday, shows that things have gone a little off course from the usual after-session slump.

According to reporter Phil Prazan, a spokesperson from the Travis County DA's office stated that no criminal complaint has been filed, but in the event that happens, by statute the complaint will need to be filed in Brazoria County.