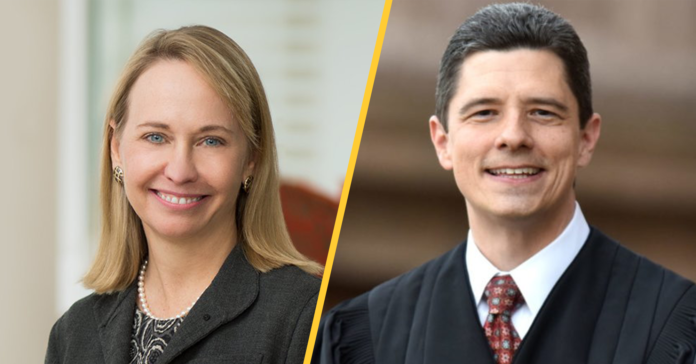 Two of the Republican incumbents running to keep their seats on the Texas Supreme Court this November have never actually been elected to those positions. Justices Jane Bland (Place 6), and J. Brett Busby (Place 8) were appointed by Gov. Greg Abbott in 2019, and they are facing voters for their first time in this office.
Moreover, the last time either candidate faced an election, Texas voters chose the Democratic alternatives, bumping Bland and Busby off their appellate court bench seats in 2018. Abbott was there at the ready with the consolation prize of a job promotion to the Supreme Court.
Ordinarily, justices on the state's highest court are elected to serve six-year terms, but Bland and Busby — along with two other Republican justices — were appointed by Abbott to fill vacancies, avoiding an election for the remainder of their first terms. 
Both Bland and Busby have Democratic challengers this November. Kathy Cheng, a private practice attorney in Houston, is running against Bland for Place 6; and Justice Gisela D. Triana, currently of the Texas Third Court of Appeals, is opposing Busby for Place 8 on the court.
Cheng told the Amarillo Pioneer in an interview that "the lack of diversity" on the Texas Supreme Court is a "major factor" that motivated her to run for office.  Cheng said that she will bring a broader perspective to the state's highest civil court. 
"The current panel of nine justices does not reflect the diverse demographics and mindset of the Texans whom they serve … . When the law is interpreted through the diverse lenses reflecting the population of this state, it creates trust with respect to the judicial branch … restoring fairness, balance and integrity to the branch," Cheng said.
Triana has served as a state judge for over 24 years and currently is a justice on the Texas Third Court of Appeals. Triana noted in an interview with the Amarillo Pioneer that if elected she would be the only person on the Texas Supreme Court who has served at every level of the Texas judiciary. 
Triana said she is running to "bring justice, balance, independence and fairness to the court." Highlighting the currently all-Republican makeup of the Texas Supreme Court, Triana said "for over two decades, all members of the Court have had one political ideology … we need diversity of thought on the court."
Both Bland and Busby claim they have served as impartial judges, not beholden to any agenda or group. Their fundraising history and judicial records may challenge those claims.
Busby has said that he wants voters to "know that I believe my job is to deliver justice for all: giving everyone the fair day in court they deserve … never imposing personal or political views." 
Bland, similarly, said she wants "to fairly and equally apply the [law] as written, without a personal or political agenda." 
Despite expressing desires to ensure equal access to the court for all Texans, both Republican candidates receive a bulk of their fundraising from lawyers and lobbyists, and specifically from a small group of elite, high-dollar law firms, according to data gathered by the Center for Responsive Politics, a nonprofit, nonpartisan research group that tracks campaign contributions.
Bland has received over $334,000 from lawyers and lobbyists, including $55,000 from Vinson & Elkins, widely regarded as one of the most powerful law firms in Texas, where Bland was formerly a partner. 
Busby has received over $477,000 from lawyers and lobbyists, along with $117,500 from the finance, insurance, and oil and gas industries, according to records.  Busby also received $27,694 in donations from his former employer Bracewell LLP, another large and powerful law firm that once counted Rudy Giuliani, President Donald Trump's highly controversial personal lawyer, among its list of partners. 
Bland and Busby, both unelected, have judicial records which may reflect a history of restricting voters' access to the polls. In May, the Texas Supreme Court ruled that the risk of contracting the coronavirus did not qualify Texans to vote by mail, agreeing with Attorney General Ken Paxton.  
Subsequently, in October, the Texas Supreme Court blocked Harris County, a key area for Democrats hoping to gain control of the state, from sending mail ballot applications to all 2.4 million registered voters in the county. Both Busby and Bland joined the rest of the all-Republican justices in those opinions. 
"It is disappointing that the court has sided with political forces seeking to limit voter access this November," Harris County Clerk Chris Hollins said in a statement reported by the Texas Tribune after the ruling. "Placing limitations on nonpartisan outreach that educates citizens about their constitutional right to vote should not be acceptable in a democracy."
This election, voters will have their first opportunity to weigh in on Busby and Bland.  
"Currently, all members [of the Texas Supreme Court] are from the same political party and many were political appointments from big law firms … Texans deserve a level playing field with an independent court that will follow the rule of law, not one that rules on the basis of a political agenda," said Triana when asked why she decided to run.