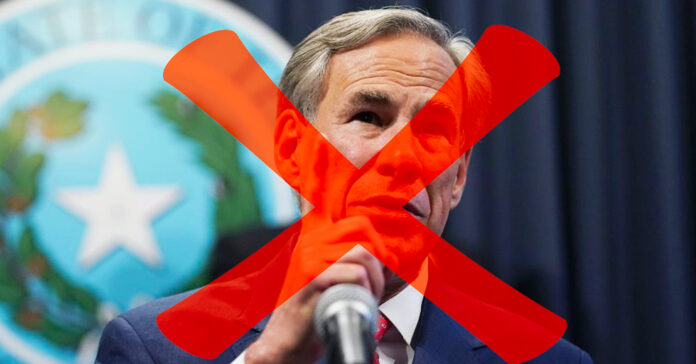 Monday morning was veto time for Governor Greg Abbott, who -compared to his usual average of 51 vetoes per legislative session- signed a surprisingly low quantity of 21 vetoes. Of course, this legislative session was quite unproductive, so maybe there just weren't enough bills to veto.
Among the bills killed by Abbott was Senate Bill 474, known as the "Safe Outdoor Dogs Act", designed to expand animal cruelty laws which Abbott referred to as "micro-managing" and said, "Texas is no place for this kind of over-criminalization." The bill had bipartisan support.
Vetoing the Safe Outdoor Dogs Act, intended to make a Class C misdemeanor the act of knowingly leaving a dog uncared for, has sparked outrage in the media where users bestowed Abbott with the hashtag #AbbottHatesDogs.
Also worth noting was the killing of SB 281, relating to the use of hypnotically induced testimony in a criminal trial, which according to Abbott included amendments that would have granted lifetime immunity for everyone who undergoes this type of hypnosis.
Still, he commended the author of SB 218, for aiming to bring accountability to the criminal justice system by addressing the use of investigative hypnosis.
But perhaps the most anticipated veto was that of Article 10, a move that has faced nationwide backlash as it is considered to be Abbott's way of punishing the Democrats who staged an eleventh-hour walkout, consequently killing GOP priority SB 7, better known as voter suppression.
As we have previously reported, Texas, like forty-three other states, has a line-item veto system, where the governor can strike through any item of any bill that relates to appropriations. Though this technically limits the power of the veto, in practice it means the governor has a de facto no over anything that deals with state money.
In this case, Abbott used his line-item power to veto a single article of the Texas budget, Article 10, which allocates the budget to pay both Lawmakers and their staff.
"Texas has a governor, not a dictator," said House Democratic Caucus Chair Chris Turner, who labelled the move as an "abuse of power". "The tyrannical veto of the legislative branch is the latest indication that [Abbott] is simply out of control," Turner said.
Governor Abbott has announced two special sessions where -in addition to redistricting- Republicans will try to pass previous failed attempts, including race theory, deplatforming, and of course, voter suppression.
Here's the complete list of Abbott's 21 vetoes:
| | |
| --- | --- |
| SB 813 | Relating to the insurance premium tax credit for the certified rehabilitation of certified historic structures. |
| HB 686 | Relating to the release on parole of certain inmates convicted of an offense committed when younger than 18 years of age; changing parole eligibility. |
| HB 787 | Relating to conditions of community supervision prohibiting contact with certain persons. |
| HB 1193 | Relating to the jurisdiction of a juvenile court over certain persons and to the sealing and nondisclosure of certain juvenile records. |
| HB 1240 | Relating to the offense of failure to comply with an order from a fire marshal and the authority of certain county employees to issue citations for certain violations; changing a criminal penalty. |
| HB 1477 | Relating to performance and payment bonds for public work contracts on public property leased to a nongovernmental entity. |
| HB 1544 | Relating to the eligibility of land to continue to be appraised for ad valorem tax purposes as qualified open-space land if the land is temporarily used for sand mining operations; authorizing a fee. |
| HB 2448 | Relating to the verification of the incarceration of an accused person in a criminal case for the purpose of discharging a surety's liability on a bail bond. |
| HB 2667 | Relating to universal service fund assistance to high cost rural areas and the uniform charge that funds the universal service fund. |
| HB 2803 | Relating to a commercial landlord's or tenant's remedies regarding certain unlawful activities in a multi unit commercial property. |
| HB 3135 | Relating to the powers and duties, authority to issue bonds, and authority to impose a tax of the SH130 Municipal Management District No. 1. |
| HB 3207 | Relating to preventing the loss of benefits by certain retirees of the Teacher Retirement System of Texas who resume service during a declared disaster. |
| HB 4218 | Relating to a cause of action for the bad faith washout of an overriding royalty interest in an oil and gas lease. |
| SB 1 | General Appropriations Bill.Line item veto. |
| SB 36 | Relating to creation of a higher education task force focused on mental health services and the offense of hazing. |
| SB 237 | Relating to the issuance of a citation for a criminal trespass offense punishable as a Class B misdemeanor. |
| SB 281 | Relating to the use of hypnotically induced testimony in a criminal trial. |
| SB 474 | Relating to the unlawful restraint of a dog; creating a criminal offense. |
| SB 1109 | Relating to requiring public schools to provide instruction and materials and adopt policies relating to the prevention of child abuse, family violence, and dating violence. |
| SB 1458 | Relating to standardized forms and materials for the issuance of protective orders, magistrate's orders for emergency protection, and temporary ex parte orders. |
| SB 1772 | Relating to the establishment of the Texas Pollinator-Smart program for solar energy sites. |