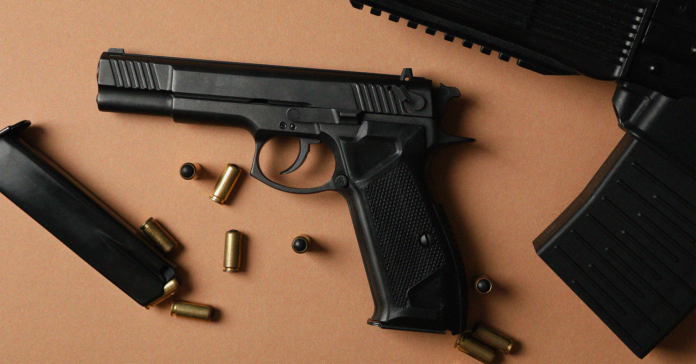 The National Rifle Association has called the pre-filings for legislation in the Texas Congress next year a "record amount of gun control." There are also a slew of bills aiming to increase gun rights in the state.
On the control side, there are at least sixteen gun control bills that have already been filed, most of them incredibly minor in scope and sensible in conception. Both Rep. Diego Bernal (D-San Antonio) and Ron Reynolds (D-Missouri City) have filed congruent bills looking to close the "gun show loophole." HBs 52 and 245 would make it a criminal act to sell firearms at gun shows without complying with the National Instant Criminal Background Check System. This is a very uncontroversial proposal that is supported by 96 percent of Americans nationwide.
Rep. Lina Ortega's (D-El Paso) HB 118 would ban all private gun transfers unless they were from close family members. This is a sore spot in Texas as Seth Aaron Ator used a private sale to evade a background check that would have prevented him owning the guns he used to kill and wound 29 people in Odessa and Midland in 2019.
Two bills involve assault weapon bans (HBs 172 and 241), with long descriptions of what actually constitutes an assault rifle. These would not involve confiscation and would instead prohibit future sales and transfers. These are very unlikely to pass as possession of AR-style weaponry has become a litmus test for gun rights advocates despite the fact that they have also become the preferred weapon of choice for mass shooters. Much more modest proposals from Rep. Terry Meza (D-Irving) and Ortega (HBs 178 and 234) would simply ban sale, possession, or transfer of magazines that hold ten or more rounds. Ortega's HB 231 would raise the minimum buying age for assault weapons and shotguns to 21.
Meza is also behind another gun bill that should have bipartisan support. HB 185 would make it a criminal act to fail to store guns in a gun safe, gun case, gun cabinet, or similar device. The NRA itself recommends this as a safe practice for gun owners, making their apparent opposition to it somewhat baffling. Stolen guns are a huge problem in the United States, with the Department of Justice estimating an average of 243,000 guns are taken in burglaries every year. Another DOJ survey of prison inmates showed that 37 percent of them acquired the handguns they used in their crimes either from burglaries or black markets that source from burglaries.
Two bills (HBs 164 and 395) would make it unlawful to buy or possess firearms while under a protective order, something that is already prohibited by Texas and federal law. Surrendered weapons would be up for return after one year.
More controversial bills from Meza include; HB 196, which would make "inability to retreat" a component in legal use of deadly force in a protective capacity, HB 201, which would repeal carrying guns on college campuses, and HB 238, which would restore the right of municipalities to enact stricter gun control within their jurisdiction.
Gun control advocates are not the only ones filing bills. At least six bills have been put forth that would expand Texas' already famously lax gun restrictions. Both HB 87 by Rep. Valoree Swanson (R-Spring) and HB 340 by Rep. Briscoe Cain (R-Deer Park) would prohibit the state government from issuing controls over sale and possession of firearms during a state of emergency. Cain has also filed HB 336, which would prohibit the enforcement of gun control on people with protective orders against them. Cain's bills to defang red flag laws come on the heels of his 2019 threats on Twitter to shoot a presidential candidate over a policy disagreement.
Rep. Steve Toth (R-Spring) has filed HB 112 which, under the supposed protection of the Tenth Amendment, says the federal government cannot enforce any gun control laws that are not also explicitly laws enacted by the state. In all likelihood, the law would be a placeholder statute for a future Supreme Court fight to see if the newly-conservative court would uphold the rights of states to make their own gun laws outside the jurisdiction of the federal government.
Rep. Drew Springer (R-Gainesville) has also penned a few pro-gun bills, though they will likely need revamping before being brought up to committee. HB 299 would make it so that a gun license would only need to be presented if the license holder has it on their person, and that otherwise a driver license or state identification would be sufficient. It also goes out of its way to define "person" rather than "license holder" in a manner clearly meant to help gun owners who want to carry in public get around having to prove they have an appropriate license.
HB 304 is Springer's second attempt at a bill he authored in 2015 that would expand the right to carry into portions of gun free zones. The myth that gun free zones are disproportionately targeted by shooters when choosing massacre sites is a favorite rallying cry for gun advocates. Despite the prevalence of the theory and the media coverage of school attacks, only 10 percent of mass shootings occur in gun free zones.
How much traction any of these bills will get in the January session as the coronavirus pandemic and economic crisis continue to rage is anyone's guess. However, as the 2022 election cycle slowly starts to get moving, it's likely that these bills will become rallying cries for bases on both sides of the gun debate. Whether they become law or not, they have already become fodder for propaganda rhetoric.