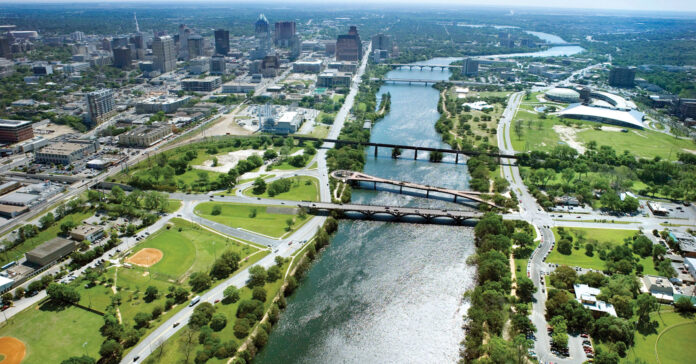 Once upon a time, Austin was among the most affordable places to live, a charming oasis in the midst of a conservative state. Now the capital of Texas finds itself almost at the top of the list of least affordable cities in America.

According to a forecast prepared by Zillow, a real estate company that tracks affordability, the Austin metropolitan area is on track to become the least affordable major metro region for homebuyers outside of California. According to the Austin Board of REALTORS, Austin's home sale prices have doubled since 2011, from $216,000 to $536,000, with an average of 180 new residents moving to the city every day in 2020.
"Austin is the worst-kept secret," said Job Hammond, a secretary-treasurer with the board.
The surging prices have created a brewing housing crisis that is affecting mostly low-income Black and Latino residents who are experiencing gentrification in their neighborhoods, from demolishing churches to building chic coffee shops to being run out of their homes to make way for amenity-rich apartments.

In a city where about 13 percent live below the poverty line, the lack of affordable homes has led to homeless encampments outside City Hall and under busy highways. This has raised concern among Austin officials, who decided to appoint the city's first displacement officer this year.

Nefertitti Jackmon has been assigned the challenging task of preventing widespread gentrification, whose office will be allocated about $300 million over the next 13 years, as reported by The New York Times.

"This has become the tale of two Austins," said Susana Almanza, a longtime activist. "The rich keep building in our neighborhoods and the poor keep getting displaced. It doesn't end."

The recent arrival of tech titans, including Apple, Amazon, IBM, AT&T, and more recently Tesla, have accelerated the area's economy. Those high-paying jobs have pushed up the price of housing, also leading to a younger and more affluent population.
"If you're not in the technology industry, and you're not earning those wages, you're probably going to be priced out," one expert said.
For the first time in years, the Austin City Council met for a special-called meeting to discuss topics related to housing affordability and supply.

Mayor Steve Adler declared this week as "Housing Affordability and Housing Supply Week" in the city.
"This is an emergency situation we're in right now. It's an existential challenge," said Adler. "I wish there were things we could be doing overnight. But even the things that can't be done overnight have to be initiated now. We just can't wait. And we'll do everything that we can do.
More than a dozen potential solutions were outlined Tuesday during a special called meeting by the Austin City Council, including the residential use of properties zoned only for commercial use. There is also some appetite for incentivizing businesses to build on-site housing for their employees, as well as for the city to partner with the University of Texas and other higher education institutions to facilitate student housing to free up housing for the rest of the city, as reported by Austin American-Statesman.
For now, these are just ideas. The council took no formal action, but Mayor Steve Alder is confident he can get the votes for his proposals, which include lowering restrictions on parking requirements and increasing accessory dwelling unit availability.