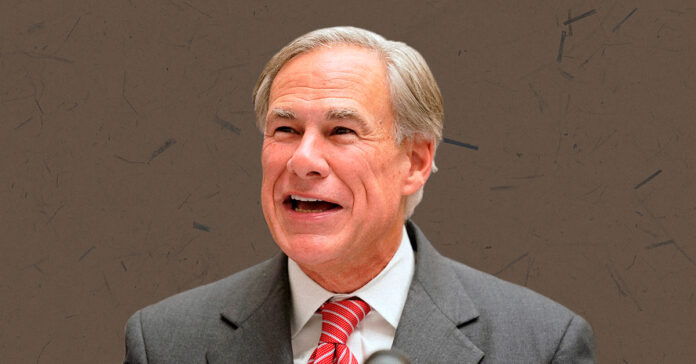 Though Governor Greg Abbott has been extremely coy about addressing the issue directly, it's rumored that he will be seeking the Republican nomination for president in 2024. If that is the case, he appears to be hanging all of his hopes on a set of far-right stunts centered around border security. Though most of them have been objective failures, polls show they may be helping the governor anyway.
The subject of the southern border definitely front and center in fundraising messaging.
"Biden's TURNING A BLIND EYE to his growing border crisis, and even has made it worse by lifting yet another immigration policy," reads a recent fundraising email from Texans for Greg Abbott. "We HAVE to hold Biden accountable for allowing illegal immigrants to walk into our country with no repercussions. Will you chip in today to help us hold Biden accountable?"
The policy they are speaking of is the controversial decision by President Joe Biden to end a policy called Title 42, which was used during the pandemic to expel immigrants without due process. The Biden White House says that the policy is no longer needed as safety in immigrant processing facilities has reached acceptable levels.
Still, there is no denying that America continues to see a spike in border crossers, and Abbott has been keen to capitalize on the appearance that Biden is soft on undocumented immigration. This has led to a variety of initiatives where the governor claims he is succeeding where Biden has failed.
These include crowdfunding new segments of border fence to be built on land owned by the state of Texas, something that it is very unclear whether Texas actually has a right to do. The action that has granted Abbott the most attention lately is bussing captured border crossers to Washington D.C. All those transported volunteered for the ride and were fed at Texas' expense, but the move has been heralded as a publicity stunt by federal government. The Department of Homeland Security already transports immigrants to other states specifically to keep border town resources from being overrun.
The most controversial action Abbott has taken is Operation Lone Star, a military engagement using the Texas Nation Guard that has been responsible for rounding up scores of border crossers, often through alleged entrapment. The operation has been a debacle for the governor, and has led to desertions and suicides among the guard.
To date, none of these actions have significantly solved any problems at the southern border, but Abbott's bombastic stunts are yielding fruit in the hearts of voters who feel undocumented immigration is the most pressing issue.
According to a Dallas Morning News/UT Tyler poll from January, the state is broadly behind Abbott, though rarely by much and with a lot of indecision. Republicans felt that securing the border was even more of a priority than fixing the electric grid, and overall, 41 percent of Texans agreed. A majority of Texans (52 percent) approve of how Abbott has handled border issues, while only 32 percent feel the same about Biden. No matter how badly Operation Lone Star has gone, 54 percent approve of sending the National Guard there.
On the other hand, the polling does show that Texans might be open to other paths if Biden could push immigration reform through Congress. A majority (54 percent) approve of granting immigrants who came as children permanent legal status, and only a minority are still in favor of more physical border fencing being built.
The popular consensus from the data seems to be that something must be done at the border, that Biden is not doing it, that even though what Abbot is doing rarely produces positive results it counts as something, but ultimately the state would be happier with true reform. Until that happens, Abbott is likely to have a political advantage with border parlor tricks.