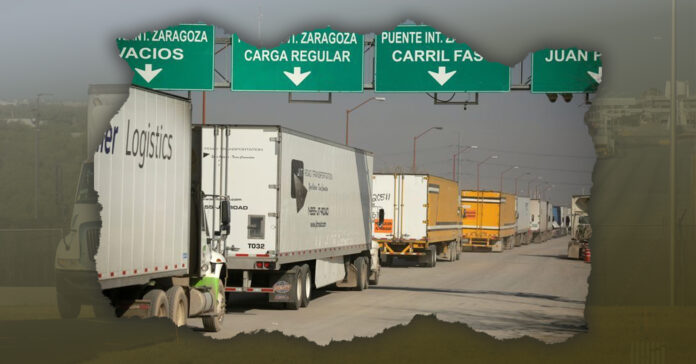 Gov. Greg Abbott's border crackdown continues damaging Texas' primary trading relationship. Mexican officials intend to respond in kind.
Abbott's enhanced inspections target "cartels that smuggle illicit contraband and people across our southern border."
Tatiana Clouthier, the Mexican Economy Minister, announced the T-MEC rail corridor, running from Mexico to Canada, will no longer include Texas.
"We're now not going to use Texas," Clouthier said at a conference last week in Mexico City, according to the report. "We can't leave all the eggs in one basket and be hostages to someone who wants to use trade as a political tool."
Some White House officials call Abbott's inspections a "political stunt."
White House press secretary Jen Psaki had this to say in a statement last month: "Governor Abbott's unnecessary and redundant inspections of trucks transiting ports of entry between Texas and Mexico are causing significant disruptions to the food and automobile supply chains, delaying manufacturing, impacting jobs, and raising prices for families in Texas and across the country."
Psaki was asked if Abbott is to blame for recent inflation.
"Well I think we're trying to state the facts of what is another political stunt that we're seeing happen and the impact of it," Psaki replied. "What we're seeing is right now, factually, there's over $1 million in trade crossing over the U.S.-Mexico border every minute. These actions are impacting people's jobs and the livelihoods of hardworking families in Texas and across the country."
She further explained that the "unnecessary inspections" are causing "significant delays, which are resulting in a drop in commercial traffic of up to 60 to 70 percent in some ports."
Some commercial groups have opted to avoid Texas entirely, using crossings in New Mexico instead. Mexican delegations are even considering funneling funds into New Mexico's trade infrastructure.
Mexican President Andres Manuel Lopez Obrador called the governor's order "despicable."
Texas DPS has not reported discoveries of any contraband or undocumented migrants.
The Dallas Morning News estimates the inspections have cost the Texas economy $4.2 billion.
Gov. Abbott is undeterred, despite the current and potential losses. He is currently toying with the plausibility of legally declaring Texas as under "invasion."
"This is something that I began studying when I was the attorney general of Texas," Abbott said during a roundtable on Thursday. "The operation, as it would work, is to [detain] these people and deport them immediately."
Abbott continued: "So, is it something we're looking into? Yes. You know me well enough that you know I will look at every legal issue about a policy before we undertake action on that issue."
The move would give the governor war powers and allow state police to deport migrants (even) less discriminately.
However, constitutional experts believe the Department of Justice would immediately kill any attempt to realize Abbott's plan. Yet, he remains undiscouraged.