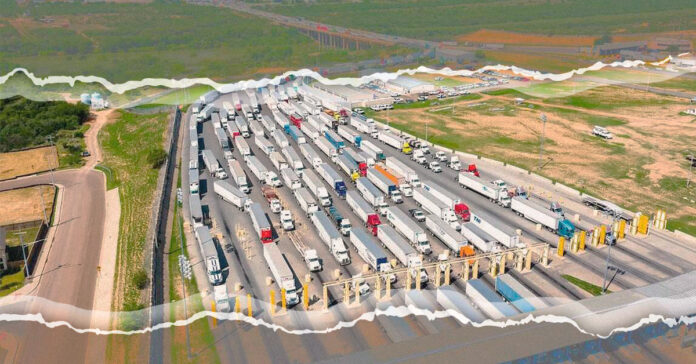 Thanks to Gov. Greg Abbott's new directive, thousands of commercial vehicles were slowed down to a snail's pace at Texas' international ports of entry, adding disruption to an already pandemic-strained supply chain. 
On Wednesday, Abbott directed the Department of Public Safety to begin conducting "enhanced safety inspections" of vehicles at Texas ports of entry.

The order is part of the Governor's push to stiffen security at the state's southern border as the Biden administration in Washington D.C., plans to end Title 42, a pandemic-era emergency order that had allowed federals to turn away migrants, even those seeking asylum, as reported by The Texas Tribune.
However, Abbott's move is viewed as an impractical political stunt to further his border crusade. Once again, The Governor is prioritizing hot-button social issues, with no real awareness of the repercussions it has on the local economy.

"We value border security but it's got to be weighed very carefully with the Texas economy," said Laredo Mayor Pete Saenz. "Any slowdown in commerce at our bridges is a definite slowdown in our economy."

On Friday afternoon, U.S. Customs and Border Protection showed five-hour delays for entry into Laredo, Pharr had delays of more than four hours and El Paso's two inland ports had delays of three hours.

DPS troopers are checking every one of the thousands of commercial vehicles that cross selected ports after they are inspected by CBP at the international port of entry. But DPS troopers can only conduct mechanical inspections. 
This means there is no way for them to check on the cargo itself. Putting into question the efficacy of Abbott's move which is meant to target commercial vehicles that drug cartels use to smuggle into Texas humans and drugs.
"I don't know what the rationale is," Rep. Henry Cuellar said. "If you're worried about too many people coming in but you can't inspect the cargo, that doesn't accomplish anything except make things uncomfortable and have a negative impact on commerce."
Mexico is Texas' top trading partner, doing $442 billion in total trade last year. The major impact right now is on trade and the repercussions it will have on the region's import-export and shipping industries.

"Our state and our nation depend on the reliable, uninterrupted flow of goods to meet our nation's needs. By implementing this action, Governor Abbott is exacerbating the supply chain crisis to further his crusade at the border," said U.S. Rep Vicente Gonzalez in a statement.
Dante L. Galeazzi, Texas International Produce Association said the inspections have caused supply chain issues not only in Texas but across the Country.
"Warehouses have staff sitting idle, with no trucks to unload. Buyers in other parts of the country cannot understand why their product is not available. Buyers in other parts of the country cannot understand why their product is not available. US trucking companies are losing money as they sit around for days with no loads to haul," he said.
"This is destroying our business and the reputation of Texas."