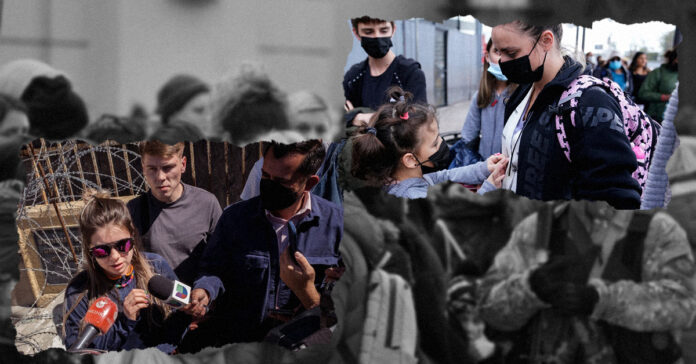 Since Russia's invasion began on Feb. 24, around 3 million refugees have so far fled Ukraine – roughly 7% of the country's population. The ripple effect of the worst refugee crisis since World War 2 has now reached the United States border, where people are hoping to cross through Tijuana, Mexico.

The not-so unexpected arrival of Ukrainian and Russian asylum-seekers is starting to put pressure on President Joe Biden's willingness to continue enforcing a Trump-era policy that has so far been used 1.7 million times to quickly expel migrants in the U.S.-Mexico border.

Enacted under President Donald Trump as a consequence of the pandemic in March 2020, Title 42 restricts who can cross the border "in the interest of public health." It has so far blocked thousands of Central Americans, Haitians, and asylum-seekers from other countries who have desperately tried to cross the border.

The only way around Title 25 is to seek a "humanitarian exemption."

Erika Pinheiro, policy and litigation director for Al Otro Lado, an organization that provides legal aid and support for people trying to cross the border, told Vice News, the humanitarian exemption was only granted to refugees at imminent risk of death or those with extremely serious medical issues for which they cannot access care in Mexico.

Pinheiro and Blaine Bookey, legal director of Center for Gender and Refugee Studies, helped the first Ukrainian refugees – Sofia and her three children – cross the U.S.-Mexico border on Thursday.

Pinheiro tweeted from the scene on Wednesday, exposing the hostile Customs and Border Protections (CBP) agents who turned away Sofia and her family multiple times.

"They're telling families that Title 42 is in place, no exceptions," Bookey said "They're telling them to leave. They've been yelled at, told to move, just generally it's an abusive environment."

Sofia, like millions of asylum-seekers, just wants her family to be safe.

"We left our lives, our jobs, our families and houses in Ukraine just to escape from this horrible war," Sofiia told the Union-Tribune. "All my friends and family are far, far away from me, and I don't know if they will be alive tomorrow. I just want to keep my kids' lives safe."

According to Vice News, Sofia was allowed to enter the U.S. on Thursday morning, after the agency "reviewed the facts of their case." But it remains unclear whether border officials will extend Title 42 exemptions to other Ukrainians.

Could this be the end of Title 42?

The U.S. reluctance to unconditionally accept Ukrainians has drawn sharp criticism.

Biden's administration is hypocritically praising European countries for welcoming refugees with open arms, while on his own doorstep Ukrainians are being aggressively turned away.

Immigration advocates, medical groups, and prominent Democrats in Congress are renewing calls to lift the strict public health order.

"For almost two years under Title 42, the U.S. has used the COVID-19 pandemic as an excuse to close the border to asylum seekers," said Avril Benoît, executive director of Doctors Without Borders. "This devastating policy has exposed highly vulnerable people to move violence and danger."

This could be the social pressure Biden needed to roll back on Title 42.

On Monday, Department of Homeland Security Secretary Alejandro Mayorkas met with Mexican President Andres Manuel Lopez Obrador and his team to hammer out labor and migration issues, as reported by The Dallas Morning News.

Title 42 was among the topics of discussion at the meeting at the National Palace.
The meeting gives hope that the Biden Administration might terminate Title 42 because its purpose and need no longer exists with COVID cases declining and vaccination rates climbing.