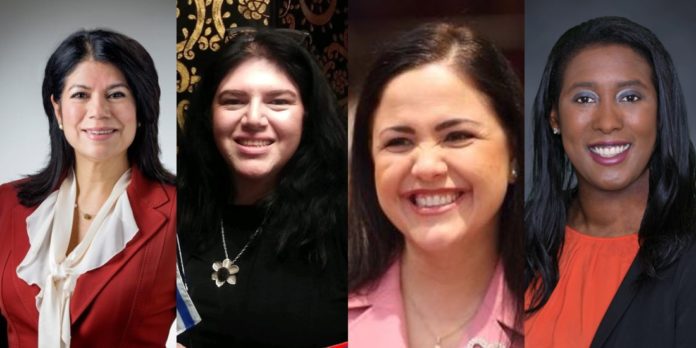 (From left to right: Carol Alvarado, Martha Fierro, Ana Hernandez and Mia Mundy)
As early voting continues in the Texas Senate District 6 special election, as of Monday December 3rd, 7,253 voters have cast their votes in the race. 2,335 residents have voted early in person so far, with an additional 4,918 casting their ballots by mail.
The four candidates vying for Texas' Senate District 6 seat have each filed their final campaign finance reports, due eight days ahead of the December 11 Special Election date. Here's how much money the candidates in the special election race have raised:
Rep. Carol Alvarado (D-Houston) has raised $116,245 and spent $390,676 from October 28 to December 1. Alvarado still has plenty of money to spend in the final week before the election, with her latest filing showing she has $172,130 cash on hand. Representative Ana Hernandez of House District 143 (D-Houston) reported raising $127,227 between July 1 and December 1. Her campaign spent $197,754 during that period and maintained $146,668 cash on hand. Hernandez's 8-day report was the first she was required to file since June 30th, because she ran unopposed for her Texas House seat in the November 2018 general election. According to a Reform Austin analysis of the campaign finance report, Hernandez raised $66,146 and spent $162,219 between October 28 to December 1, the comparable period to Alvarado's report.
The sole Republican candidate, Martha Fierro, raised $4,126 in political contributions and spent $1,300 between November 15 and December 1. Fierro currently has $4,126 cash on hand and a $1,000 outstanding loan to her campaign. Democrat Mia Mundy's 8-day filing show no expenses or contributions between November 26 and December 1, leaving her with $0 cash on hand going into the special election.
A special election for Senate District 6 was called by Gov. Greg Abbott when Sen. Sylvia Garcia resigned the seat after winning the race for Congressional District 29. Reform Austin will continue to follow the results of the election and report which candidate garners the most votes on December 11. If no candidate earns 50 percent or more on December 11, a runoff will be held several weeks later.