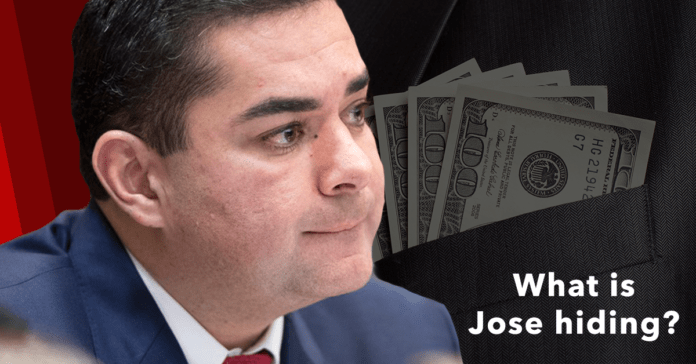 The biggest scandal in the State Capitol isn't what is illegal, but what is legal.  Austin is notorious for its weak ethics rules and lax enforcement, so it's remarkable when an incumbent representative gets penalized for failing to meet the very low bar for disclosure under Texas Law.

Campaign finance disclosure reports exist so the public can determine whether a candidate has financial connections to lobbyists or special interests.  Taxpayers can then evaluate whether legislators and officials protect the interests of constituents they are elected to serve or those of campaign contributors.

Texas State Representative Jose M. Lozano (R – Kingsville) has had trouble coming clean with who's giving him money. On three separate occasions (2010, 2011 and 2013) Lozano has been fined by the Texas Ethics Commission for failing to meet the deadline for disclosing campaign receipts and expenditures.

Documents show Lozano has taken thousands of dollars from Construction Lobbyists for his campaigns. In return, he has supported their agenda. According to Texas Ethics Commission records, Lozano's campaign accounts have raked in over $101,054.09 from construction and building interests since 2009. The largest contributors came from the Texas Association of Realtors PAC and TREPAC.

Separately, Texans for Lawsuit Reform has kicked in $425,575.63 to Lozano's campaigns. Texans for Lawsuit Reform is a PAC with top donors from the construction industry.

In return, Lozano has voted in favor of legislation benefiting the construction and development industries.  In this past legislative session, Lozano voted in favor of HB 1449 (2017) which prohibits local governments from imposing linkage fees on new construction. Linkage fees are typically used by local governments to raise funds for affordable housing production.  By banning linkage fees, wealthy construction companies saved money. As a consequence, it becomes harder for local governments to create affordable housing options for those who need help putting a roof over their heads.

Lozano has a pattern of delayed disclosure for his campaign contributions, but has no problem accepting the special interest cash. He also has a history of voting in favor of the interests and organizations who support him.  Lozano needs to stop hiding and do a better job of disclosing his many conflicts. Reform Austin – and Lozano's constituents – are watching.