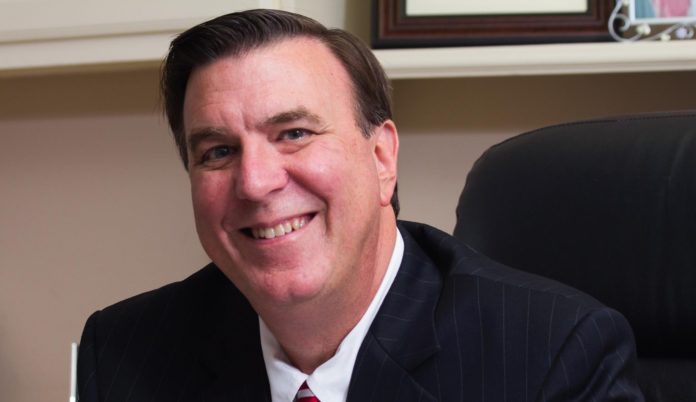 As Texans know all too well, money can have a large influence in decision making for elected officials, and that's exactly what special interest groups and political action committees (PACs) count on when they contribute to political campaigns. When these groups help further the careers of politicians like State Representative Dennis Paul (R-Harris County), they expect the favor to be returned by voting their way in Austin on the issues they care about. And too often the public loses.
As Reform Austin previously reported, Dennis Paul has been a special interest favorite – taking hundreds of thousands of dollars from business interests and their PACs — and voting their way in the Texas House.
But Paul's "pay to play" game doesn't stop there. He worked a deal with one of the town mayors in his district to receive no-bid contracts in exchange for an appointment to a state board – but was later terminated by the city due to a conflict of interest.
We can follow the order of events thanks to records obtained by concerned district residents via the open records act:
August 07, 2017

Mayor Briggs pushes for contracting to fix air conditioning at the city courthouse. (

7.1.16

)

October 02, 2017 3:58 PM

Dennis Paul solicited the Mayor of El Lago – Mark M. Briggs, offering his services broadly and hoping for contracts to repair hurricane damage. (

Page 398 of 423

)

October 04, 2017

Mark M. Briggs donates $2,000 to Dennis Paul's campaign.

(TEC Finance Report)

October 09, 2017 10:05 AM – 5:42 PM

Mayor Briggs requests to meet with Paul and put together a contract at the court house – referring to the project as "98 Lakeshore." (

Page 357 of 423

)

October 12, 2017 3:37 PM

Dennis Paul submits his proposal regarding the El Lago Municipal Court Building to Mayor Briggs.

October 21, 2017 5:58 AM

Mayor Briggs states that he and Dennis Paul met on Oct. 20 and are working on plans for McNair Park's new bathrooms.

November 6, 2017

Dennis Paul sends his "detailed scope of work" documents for the Courthouse and Park projects – assigned under the "ever green contract," – and states that he has a team ready. (

Page 134 of 423

)

November 10, 2017 4:23 AM – 9:15 AM – November 11, 2017 5:38 AM

Mark M. Briggs checks on the status of the appointment process for TCEQ waste commission via email. The response is lukewarm and non-committal. It takes him a day to respond with "Thanks Steve." (

Page 49 of 112

)

November 13, 2017 8:08 AM

Dissatisfied, Mark M. Briggs asks Dennis Paul to weigh in on the TCEQ appointment process and receives no response from Paul – unusual for Rep. Paul – who is normally punctual with his responses to the Mayor. (

Page 48 of 112

)

November 15, 2017 12:23 PM

Mayor Briggs is informed of his appointment to the commission and while the process will take a few more days – TCEQ wanted to congratulate the Mayor. (

Page 43 of 112

)

February 06, 2018 5:27 PM – February 07, 2018 2:53 PM

Councilwoman Ann Vernon voices concern over the Project with Paul Engineering – stating that she did not believe his priorities were with El Lago – and that he has been promising and promising, but not delivering. Mayor Briggs reaffirms his confidence with Paul and suggests that the weather was to blame. (

Page 75 of 423

)

April 19, 2018

El Lago residents uncover the unsanctioned actions of Mark Briggs and release the evidence to the public.

April 26, 2018 

Mark Briggs Resigns (

New Business 5.1

)

May 16, 2018

The city holds a meeting to discuss the conflict of interest between Mayor Mark Briggs and Dennis Paul and ultimately decides to terminate the contract with Paul Engineering. (

New business 13.3

)

June 06, 2018

Dennis Paul receives payment for only one of the projects, despite never completing either. (

Old Business 9.1

)

Now

With a former Mayor now disgraced, and a deal gone bad – Paul campaigns on the belief that this egregious act will go unpunished.
Dennis Paul sought and received no-bid taxpayer contracts from a campaign contributor, in exchange for a state board appointment. The mayor resigned, and he was later terminated from those contracts for non-performance, but still collected payment. We can't trust Dennis Paul with our tax dollars. We need to Reform Austin.