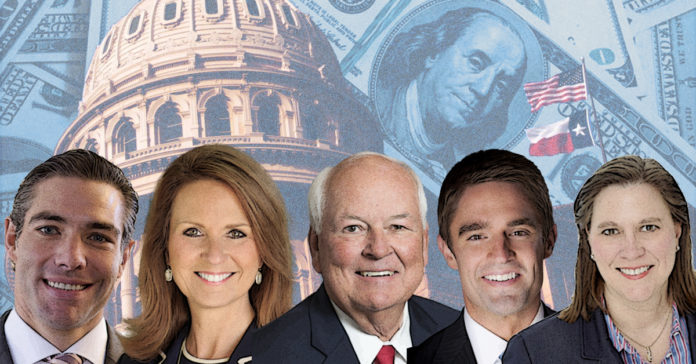 Following Monday's deadline for filing campaign finances, we have a clearer picture of the challenges and opportunities facing candidates running for state office. Following a state-mandated moratorium on fundraising, a small group of candidates in vulnerable seats raised a considerable amount in the last two weeks.

The top earners in hot seats are listed below.
District 108-Rep. Morgan Meyer
The opposition is lining up against Rep. Morgan Meyer (R-Dallas-Fort Worth), who now faces three Democratic challengers: Shawn Terry, Joanna Cattanach, and Thomas Ervin. This highly contested seat sits in a district Hillary Clinton and Beto O'Rourke won in previous elections—O'Rourke with 57.2 percent of the vote in 2018, and Clinton with 50.3 percent of the vote in 2016. These close margins, coupled with Rep. Meyer's narrow .2 percent win against Cattanach in 2018, offer a prime opportunity for a competitive race in 2020.

Rep. Meyer raised a significant $155,595.00, but Democrat hopeful Shawn Terry raised over $230,000 in this quarter.

District 67— Rep. Jeff Leach
Rep. Jeff Leach (R- Dallas-Forth Worth) is another incumbent already facing three registered opponents: Anthony Lo, Lorenzo Sanchez, and Sarah Depew. Despite the number of challengers, none of their fundraising so far comes close to Rep. Leach's $185,579.85. Though President Donald Trump won this district with a 5.6 percent lead in 2016, Beto O'Rourke was able to win by a 5.5 percent margin in 2018. Rep. Leach won in 2018 with a margin of 2.2 percent, so this will be an interesting fight if a challenger can gain traction.

District 8—Sen. Angela Paxton
When it comes to state Senate races, the staggered election cycle means some of these elected officials are safe until 2022. Senator Angela Paxton (R-Allen) is one of those lucky few, but she's received $132,000 in donations so far. This is not surprising given the margins in the district's last election—President Trump won by an 8.6 percent margin, and Senator Paxton squeaked by with 2.4 percent against Democratic challenger Mark Phariss. With a Beto O'Rourke by 2 percent, the senator may feel vulnerable. Taking the time to stock the coffers would mean she will be prepared if and when an opponent makes themselves known.

District 115—Rep. Julie Johnson
Rep. Julie Johnson (D-Dallas-Fort Worth), who occupies one of the 12 recently flipped seats in the Texas House of Representatives, raised $78,164 in the last fundraising cycle. Although Democrats may feel a sense of relief based on recent election results—Beto O'Rourke and Secretary Clinton both won these districts in 2018 and 2016, respectively—Republicans are likely to fund a candidate to run against the representative who was a founding member of the LGBT caucus this session. In 2018, she ran against Matt Rinaldi, the Republican who notoriously called an ICE hotline on protestors in the capitol, which spurred a conflict in which Rinaldi threatened to shoot another representative.

District 121—Rep. Steve Allison
Rep. Steve Allison (R-San Antonio) won retired Speaker Joe Straus's seat in 2018, but his seat isn't a lock for the next election. Straus endorsed Allison on his way out, citing Allison as a moderate who was good for the district. The district straddled party lines over the last two election, with President Trump winning by about 8 percent in 2016, but Beto O'Rourke winning by 262 votes in 2018. Celina Montoya, a Democrat who ran against Allison in the 2018 election, took in just over $9,000 over the last filing period. Representative Allison won the election in 2018 with just over 8.5 percent.