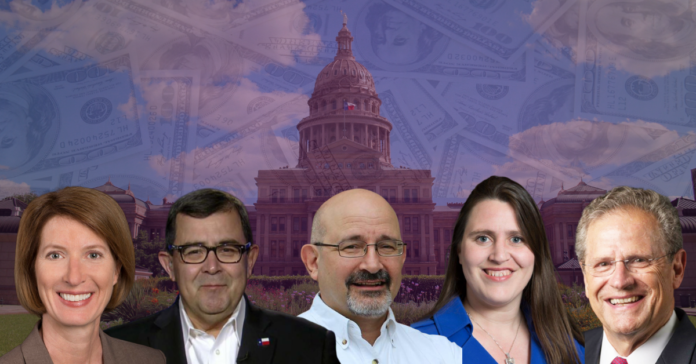 The battle to control the Texas House is fully underway, but some of the state's most vulnerable incumbents can't collect enough cash to compete.

The moratorium on political contributions was lifted one month ago for members of the legislature. Candidates challenging incumbents have no moratorium, and could begin fundraising after filing a Campaign Treasurer Appointment. All campaign finance reports were due Monday. Based on those numbers, here's who is in trouble for the upcoming 2020 elections:

Freshman Rep. Jon Rosenthal (D-Houston) was one of 12 Democrats in 2018 to flip a seat that was previously a Republican stronghold. Rosenthal defeated then-incumbent Gary Elkins (Republican) by a mere 3.2 percentage points. Despite being on the defensive, at $9,568, Rosenthal raised significantly less than the Republican candidates vying for control of House District 135. Candidate Justin Ray, former mayor of Jersey Village, raised $35,761. Houston attorney and former Republican Party official Mark McCaig yielded $52,363.

Freshman Rep. Vikki Goodwin (D-Austin) faces a momentous challenge in House District 47, where six candidates collected more contributions than her $17,055. In 2018, Goodwin defeated Republican incumbent Paul Workman by 4.8 percentage points. Republican challenger Aaron Reitz, a law clerk on the Texas Supreme Court, reported raising $23,488 while Rep. Mayes Middleton (R-Wallisville) of District 23 donated $1,000 to his campaign. Austin police officer Justin Berry (Republican) raised $25,771. Republican Jenny Forgey, an associate at the Jones Law Firm, reported $36,900 in campaign contributions. Former Austin City Council member Don Zimmerman (Republican) raised $37,658.

Another freshman Representative, Erin Zwiener (D-Driftwood), was out-raised by capable candidates in her district, reporting just $19,258 raised. Zwiener defeated incumbent Ken Strange (Republican) by 3.2 percentage points in 2018. Challenger Kent Wymore, practicing lawyer and former chairman of the Hays County Republican Party, raised $62,535. Republican Carrie Isaac, wife of former House District 45 representative Jason Isaac, reported an impressive $102,558 raised, with an additional $94,321 cash on hand. The Texas Senator who was under investigation for sexual misconduct, Charles Schwertner, donated $2,500 to Isaac's campaign.

Incumbent Rep. Rick Miller (R-Sugar Land) of House District 26 raised $19,890, less than two of his three challengers. Democrat Sarah DeMerchant faced Rep. Miller in the 2016 and 2018 general elections for House District 26, losing by just 4.8 percentage points in 2018. DeMerchant reported $10,760 raised. Republican opponent Jacey Jetton, Chairman of the Fort Bend County Republican Party, reported $25,719 raised. Democrat candidate Rishab Oberoi reported $53,190 raised.

But Texas Representatives aren't the only legislators with vulnerable seats.

Sen. Pete Flores (R-Pleasanton) of Senate District 19 faces uncertainty as the 2020 elections approach, with reports of $0 raised. Flores was elected in a 2018 special election following Democrat Sen. Carlos Uresti's resignation after being convicted of 11 fraud-related felony charges. Democratic challenger Tomas Uresti, brother of former Senator Carlos Uresti, was defeated by Flores in the 2018 election and has filed to run again in 2020. Uresti reported $3,968 raised.

Political power is at stake, and the 2020 elections will determine which party will govern. Democrats are gunning for the Texas House, and Republicans are ready to defend their control. But based on preliminary numbers, some incumbents aren't prepared for the fight.