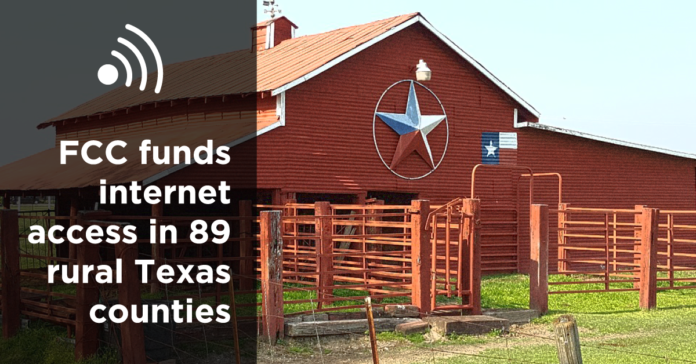 Broadband buildout efforts to bridge the state's digital divide are under way as funding from the Federal Communications Commission (FCC) flows into rural Texas counties.

This Monday, the FCC authorized $76.7 million in funding over the next decade to expand internet access for 33,901 rural Texas homes and businesses. The funding was a result of the commission's Connect America initiative, aimed at paving the way for new broadband infrastructure in underserved rural areas across the United States.

Broadband expansion will begin in 89 Texas counties this month with two providers. AMG Technology Investment Group, doing business as Nextlink Internet, will service 86 of the 89 counties. Texhoma Fiber, a wholesale internet provider, will operate in three counties.

According to a 2018 Microsoft study, nearly fifteen million Texans do not have access to broadband speed internet. In some counties, the Connect America funding guidelines require the two companies to provide broadband infrastructure that supports a minimum download speed of 25 megabits per second and an upload speed of 3 Mbps. In other counties, the required minimum download speed is 100 Mbps and minimum upload speed is 20 Mbps.

You can check your connection speed with Ookla's interactive broadband speed test.

The companies are required to build out infrastructure for 40 percent of assigned homes and businesses within three years. After this, build out must increase by 20 percent each year until completion.

Adequate access to the internet is no longer just a luxury. Education, healthcare services, and economic development opportunities heavily depend on the internet.

Online education provides greater flexibility, allowing individuals that work full time or stay at home with children to further their education. Remote health care, or telemedicine, is growing rapidly because of the ease and convenience of virtually bringing doctors and nurses to patients.

Texas legislators are also making incremental strides to close the digital gap in rural communities. House Bill 2422 requires the Texas Department of Transportation to coordinate with internet providers to plan, establish, and sustain broadband in concurrence with state highway construction. The bill becomes effective September 1st, 2019.

The internet provides significant opportunities, and rural Texans should have equal access to them. Plans are in motion, and Reform Austin will be tracking the results to ensure all Texans have accessible internet.