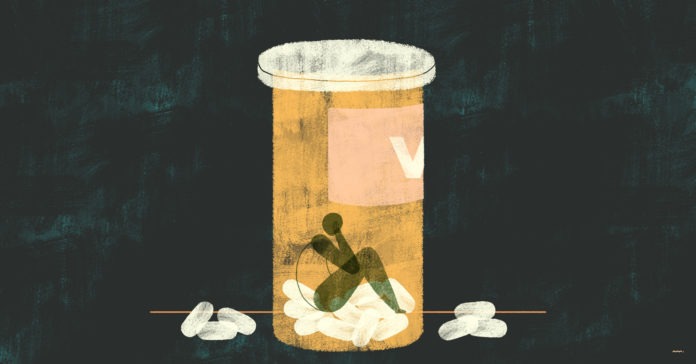 Drug overdose deaths reached a record number last year in the U.S., rising 4.6%. And 2020 brings the stresses of COVID-19, unemployment, school closures, struggles over paying rent, a lack of protective supplies and even soaring grocery prices. Another crisis, one based on self-medicating that affects the mind and body is happening — and it can lead to more deaths.
"Fear of contagion in addition to the need to reimagine how to safely remain connected to family and friends have made this pandemic a perfect storm for mental health challenges like depression and anxiety," said Ezemenari Obasi, professor and associate dean of research at the Department of Psychological, Health, & Learning Sciences at the University of Houston. "Ultimately, increases in unrelenting stressors will increase one's vulnerability to drug and alcohol use as an immediate solution for self-medicating and coping through these adverse life events."
Dr. Valerie B. Smith, a Tyler pediatrician and member of the Texas Medical Association COVID-19 Task Force, said that as the COVID-19 pandemic has progressed, concerns regarding substance use have increased among medical professionals.
"We have seen online sales of alcohol more than double, surveys report increased use of illegal drugs, and many substance use treatment centers and support groups have struggled with limited capacity," she said. "This is not surprising given that drug use often increases during times of economic strain and high unemployment , but is particularly concerning due to the compounding factor of social isolation that many are facing."
Obasi said that while the long-term effects of drug and alcohol use on the body's internal organs are well characterized, COVID-19 poses a unique challenge for smokers and people who vape (this includes tobacco and marijuana), opioid users and alcohol consumers, given the synergistic effects on the lungs, breathing and other respiratory functioning.
In Texas, the drug overdose death rate is 10.4 per 100,000, according to Centers for Disease Control and Prevention health statistics.
There were 67,367 drug overdose deaths in 2018 in the U.S. according to the CDC. In the same year, opioid-involved overdose deaths in Texas totaled 1,402.
In 2018, the number of U.S. overdose deaths fell for the first time since the 1990s.
"There's nothing to celebrate because the death toll is still very high," said Dr. Andrew Kolodny, co-director of opioid policy research at Brandeis University.
Youth
A study from the National Institute on Drug Abuse shows 2.3 percent of high school seniors misused oxycodone in the past year.
"Having a toolbox of healthy coping skills is vital for teens to be resilient and to bounce back from tough times," said Cami Fields LMSW, director of outreach and education at the Grant Halliburton Foundation in North Texas. The foundation trains students, parents, educators and professionals across North Texas on topics like depression, suicide prevention, bullying and resilience. The foundation was created in memory of a Dallas teenager who battled depression and bipolar disorder for several years before his suicide at age 19.
For a lot of teens, their most useful coping skills were taken away from them due to the pandemic. Activities such as sports, clubs, camps, friend hangouts and school gave them a sense of purpose, said Fields.
"When a young person has less access to healthy coping skills, they are more likely to engage in unhealthy coping skills, including substance use, self-harm or aggression," she said.
What can a parent or friend do if they are worried about a family member or friend during this time?
Fields said that if you know a young person who is using substances to numb pain, cope with stress, or manage emotions, it's imperative they get help as soon as possible.
"Prevention and early intervention are the most effective approaches," she said.
Obasi suggested four things:
provide support through nonjudgmental conversation,
explore healthy ways of coping with stress through exercise, meditation, journaling, balanced eating, reengaging hobbies, and getting good sleep,
find creative ways to be virtually connected to family and friends
and seek professional help for addictions and mental health challenges.
"Don't underestimate the power of connection. Having a sense of belonging and connection is a vital protective factor," Fields said. "Express your concerns and create a space of honesty and vulnerable conversation. Encourage them to seek help and make their mental health a priority. "
Funding
Greg Hansch, executive director of the National Alliance on Mental Illness of Texas co-wrote in a TribTalk article "Texans with health insurance were nearly 50 percent more likely to receive treatment for mental illness or a substance use disorder compared to Texans who lack insurance."
While the 85th Legislature authorized funding for behavioral health collaborative matching grants, there is more to do.
All ages benefit from more funding for mental health programs and resources.
State Senator Nathan Johnson (D-Dallas) posted on Facebook in 2019 about the need for more discussion around the mental health needs of Texas children.
"It's alarming, then, that Texas ranks near last in the nation for access to pediatric mental health services. The 86th Texas Legislature made significant strides to address this, but much work remains to be done. "
The Texas A&M University Health Science Center is researching the scope of the opioid crisis in Victoria County, and the resources available to the area for people who are seeking addiction treatment. This week there was a town hall panel to discuss opioids, along with signs and symptoms of opioid withdrawal symptoms
Will mental health be back on the table next session? As the need skyrockets, there is no doubt many Texans would benefit.
"Mental health clinicians around the country are stepping up in big ways when it comes to reaching clients virtually," Fields said. "Teletherapy is a great option, and a lot of providers are offering services at reduced costs or sliding scales. If you are the parent of a teen who may be struggling, I urge you to find resources that can help. There is no shame in getting your child help. It doesn't mean you have done something wrong, and it doesn't mean you are a bad parent. Times are hard, and young people need extra support now more than ever."
The Here For Texas Mental Health Navigation Line is receiving double the number of monthly calls than last year, Fields said.
"Callers are expressing troubles with coping, relapsing with substance use, and needing help finding affordable resources. Recognizing you need help and reaching out to find it is one of the bravest things you can do," she said.
Having more conversations about mental health and substance use is important right now while social distancing is the new normal in our lives.
"As the need for social distancing to limit the spread of COVID-19 continues, it is critical that physicians become comfortable discussing and identifying substance use disorders during telehealth visits and that telehealth services for mental health and substance use disorders are accessible to patients," Smith said.
Get Help
Here are resources to keep in mind as the pandemic continues.
Substance Abuse and Mental Health Services Administrations has resources and information specific to COVID-19 and substance abuse. SAMHSA.gov
National Suicide Prevention Lifeline is a network of local crisis centers that provides free and confidential support to people in crisis 24/7. Call 1-800-273-8255.
Crisis Text Line is a free, 24/7 texting service for those in crisis. Text HOME to 741741.
The Trevor Project provides 24/7 crisis intervention and suicide prevention services to LGBTQ youth. Call 1-866-488-7386