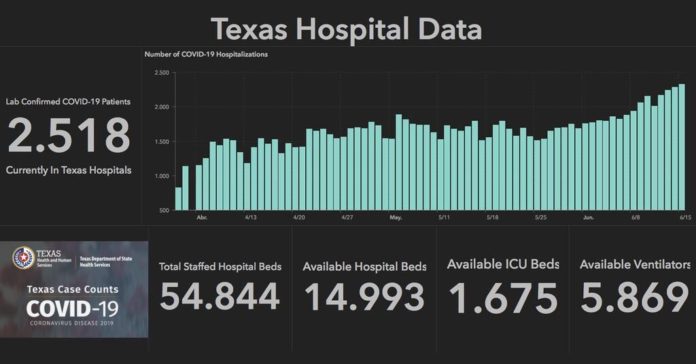 With COVID-19 cases and hospitalizations setting new records almost daily, Gov. Greg Abbott tried Tuesday to allay growing concerns that the situation in Texas is reaching a crisis.
Today's number of new positive cases is 2,622, and hospitalizations total 2,518. Both are new daily records.
Abbott said COVID-19 patients are currently taking up less than 10% of available hospital beds and the state has in place procedures for expanding bed capacity if needed. He said there is no reason to be alarmed.
"Even though there are more people hospitalized, we still remain at the lowest threat level in our hospital capacity," he said. "We have plenty of room to expand beds. There are thousands of hospital beds that are available as we speak right now and then there is the ability to surge even more hospital beds if they should ever be needed to respond to COVID-19."
Here is a breakdown of hospital bed capacity around the state:
Dallas-Fort Worth
24% of 14,383 beds are available.
Houston
21% of 12,458 beds are available.
El Paso
31% of 1,805 beds are available.
Amarillo
41% of the area's 1,038 beds are available.
San Antonio
26% of beds are available.
Austin
28% of 3,250 beds are available.
The governor attributes the rise in cases to increased testing at prisons, nursing homes and meatpacking plants as well as residents, especially those 30 and younger, venturing out more to bars and other places since Memorial Day. He continues to encourage people to stay home, wear masks if they don't stay home, avoid large crowds and wash their hands regularly.
"The reality is COVID-19 still exists in Texas. It exists in the United States as well as across the entire world. This is going to continue to be the case for at least a few more months until we have medicines that are able to treat people who test positive for COVID-19 and until we have medicines that are able to prevent people from getting COVID-19," said Abbott.
To address the increased bar activity that may be contributing to the state's rising case count, the Texas Alcohol and Beverage Commission has announced it will be cracking down on owners who do not follow the governor's occupancy restrictions and other health and sanitation guidelines. The first violation will result in a 30-day license suspension. A second violation will come with a 60-day suspension.
The warning is a marked change from just three days ago when TABC told Reform Austin it was not issuing citations.
As the numbers rise, local officials in Austin, Dallas, Houston and San Antonio have been asking the governor for the authority to enforce mandatory mask requirements.
Abbott said local authorities do have other enforcement powers at their disposal but have refused to use them. He said he won't make wearing face masks mandatory.
The governor has the power to supersede local government, a point that has frustrated mayors and county judges in the state's major metropolitan areas that are dealing with higher numbers of COVID-19 cases.
"The mayor and I, and (Judge Sam Biscoe), completely recognize that the governor of the state of Texas has taken away from us enforcement authority to put into place, adaptive measures that have proven to be effective in COVID-19," said former Travis County Judge Sarah Eckhardt at a Monday news conference in Austin. "The governor has also shown every intention of getting back to business as usual, irrespective of the facts that you've just heard from Dr. (Mark) Escott."
The state tracks the availability of hospital beds here. The daily count of new cases is found here.