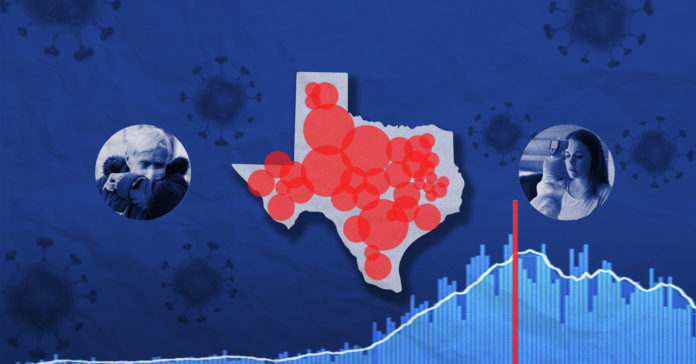 A mess. Incomplete. Faulty. Not to be trusted. Those are the descriptions of Texas COVID-19 data in recent weeks.
The state's positivity rate, the percentage of tests coming back positive, skyrocketed to more than 24% on Aug. 11, then plummeted to a little more than 11% just four days later. At the same time, testing declined dramatically. Even as late as Monday, there were new glitches popping up related to the state's reporting of cases, positivity rates and hospitalizations.
According to the Houston Chronicle, a network outage that affected multiple agencies prevented the Texas Department of State Health Services from providing any testing data on Monday.
It all has combined to create a level of uncertainty and mistrust about what is really going on in Texas regarding COVID-19. Gov. Greg Abbott has found himself having to field questions about the discrepancies at nearly every news conference he has had for the last couple of weeks. He has given various reasons for the problems, including coding errors and a backlog in reporting test results by private labs.
"The data that we have now is far more accurate than what we had last month and maybe even a couple of weeks ago," said Abbott. "That data should be close to being perfectly accurate in the coming weeks and coming months. Hence, we are now to a point where we have a far more reliable positivity rate as well as a far more accurate number of people testing positive."
Whether or not they can be trusted with pinpoint accuracy, there is a clear trending downward of cases and hospitalizations from where Texas was in mid-July, when the state was experiencing record-setting increases in all categories.
As of Monday, the number of people hospitalized due to COVID-19 was down to 5,019, compared to 10,893 on July 22.
The state's positivity rate was trending back up again and stood at 16.24%.
And, the daily report of new cases was less than half of the record 10,745 the state reported on July15.
"One thing that we have seen across the entire state is a reduction in the number of people hospitalized because of COVID-19," said Abbott. "That is the most positive sign that we can see."

The numbers are important because they are what Abbott has relied upon in making decisions about whether to loosen restrictions. Still unknown at this point is whether the start of school will impact case counts. The state will begin reporting COVID-19 test data for public schools this Friday.