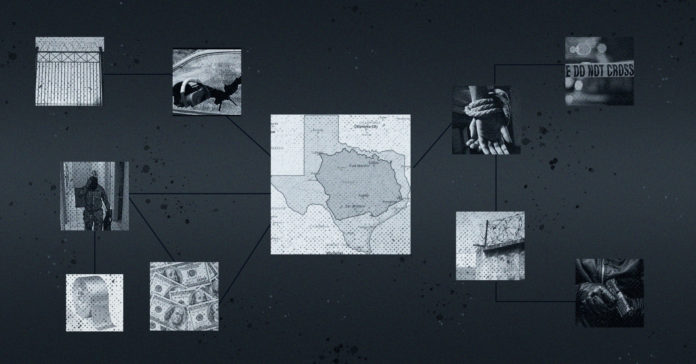 Crime is rising across Texas. But is your community safe?
Recent reports from police departments across the state in major cities like Houston and Dallas have shown increases in violent crime this year. Police departments also are experiencing an even higher level of violent crimes during times of stay-home orders, social distancing and self-isolations.
Violent crime increases have included homicides, but also drug-related crimes and other crimes such as car theft, burglary and aggravated assault.
Increased domestic violence has also been an issue for some family members staying home together in toxic environments. Some domestic violence shelters and hotlines have seen a drop in calls or visits, worrying them that victims may not be able to seek help while they are constantly with their abuser at home, or are choosing to stay in unsafe situations for fear of being exposed to the virus at a shelter.
Houston
Houston has reported a 5-year high in murder cases, with an increase in homicides as many people stay home. Homicides in Harris County are also up 48 percent, according to the Harris County Sheriff's Office.
Between March 13 and May 5 of this year, there were 57 homicides in Houston, according to the Houston Police Department.
"April was particularly hard," Houston Police Department detective Sgt. Matthew Brady told ABC13. "The uptick was rapid. We had 37 murders (in April). That's over one a day."
HPD also noted a rise in drug-related homicides, with an increase of 49 percent in 2020. The department said the stay-at-home orders may have slowed some normal routines of criminal activity, causing a disruption that has turned violent.
"The same vehicles, buses, and trains that move people, move drugs. All that's coming to a slow down. So out in the streets, there's a low product on drugs. When supply is low and demand is high, territory becomes more competitive," Houston Police Department Executive Assistant Chief Troy Finner told ABC13. "You have less drugs out there so people who do it for a living … if I can say that I'm going to sell these drugs to somebody, but I'm going to take the drugs and the money, it becomes violent because I haven't seen too many drug dealers that walk around without a gun."
Dallas
In March, Dallas Police Crime reported that aggravated assault not connected to family violence is up more than 38 percent. Business burglary is up by nearly 15 percent. Residential burglary is up 10 percent.
This is continuing a trend of increasingly violent outbreaks of crime in Dallas in 2019.
Violent crime – particularly murders – in Dallas is continuing to rise after it spiked to the highest level in nearly 10 years last year. In January, Dallas police reported 18 murders in just in one month. These homicides have been primarily concentrated in tough neighborhoods — Oak Cliff, Pleasant Grove and Southeast Dallas, which includes Valentine Street in the Bonton neighborhood, where 1-year-old Rory Norman was shot and killed at home in January.
Dallas city officials, including police chief U. Reneé Hall, have been working to engage citizens in town hall meetings and conversations to figure out what's going on in their neighborhoods to lessen violent crime. Hall, during "listening tours" across Dallas neighborhoods, has called the violence in Pleasant Grove and other neighborhoods "unacceptable." But other officials have said the city is "not going in the right direction."
Austin and San Antonio
Austin and San Antonio have seen slight decreases in overall crime so far in 2020. But they haven't been immune to the effects of the stay-home orders either.
The cancelation of SXSW in Austin contributed greatly to the city experiencing a lower level of overall crime so far this year. But students being out of school for so long and longer days at home — with some children of essential workers less supervised — have opened the city up to an increase in car thefts, aggravated assaults and burglaries, and other violent crimes.
Austin Police Association President Ken Casaday explained to KVUE in Austin that kids have been "left to their own devices."
"I think the typical statistics every year show that a lot of the auto thefts are committed by juveniles. And I think you are seeing the result of not having kids, especially the probably 14 to 18-year-old kids, not in school. And you're seeing more burglaries, you're seeing more auto theft and crimes like that," he told KVUE.
Staying Safe
Dr. Mitchel Roth — a criminologist, author, and professor in the Department of Criminal Justice and Criminology at Sam Houston State University — has spent his career studying the history of crime. Roth has written extensively on the history of crime, organized crime, and Texas police departments and prison institutions.
He said to accurately assess the safety of a community, it's essential to look at the big picture over several decades.
"A steady rise or steady decline in crime isn't sustainable for a big city. It has to eventually go up again or back down, or even out," Roth said. "You should also remember that crime demographics — especially violent crimes — are also dependent on the neighborhood. Some neighborhoods who experience higher levels of poverty or differences in socioeconomics may be more affected by violent crimes. History is the key to understanding crime. Detecting why something is happening has to go beyond the numbers."
For a city like San Antonio, which has experienced a drop in total number of violent crimes and murders over the last three years, Roth said access to research, databases, technology, and communication within a police department are hugely beneficial, especially in preventing the spread of serial homicides or organized crime.
"When police officers are able to talk to each other about cases they are working on, or they are able to focus and specialize in specific lines of crime, that helps to eliminate linkage blindness, where similar or connected crimes remain unsolved because of a lack of communication or shared databases," Roth said.
Texans who are staying home may be worried their communities aren't safe, but they should keep rising crime rates in perspective.
Finner said many of the homicide cases in Houston were between people who knew each other, even in drug-related cases. Still, he warned Houstonians — and all Texans — to be alert and stay away from involvement in "dangerous behavior."
"The last thing you want to do is have your family members going through a death when it's just — it's so totally senseless," Finner said. "Don't hang out with the wrong people at the wrong time, and don't engage in selling drugs and other risky behavior where you are increasing your chances of becoming a victim of homicide and then your family can't even properly bury you right now because of COVID-19."