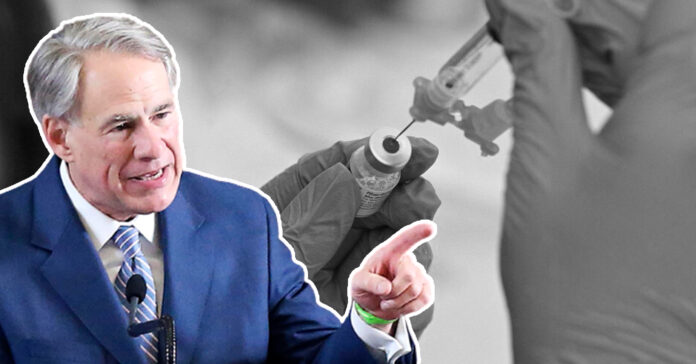 As the fight over vaccine mandates continues, the number of Texas Republicans pushing for a fourth special session increases at the same rate.

At least two dozen Republican lawmakers want to return to the state Capitol for a fourth overtime round of legislating, focusing primarily on the efforts to ban COVID-19 vaccine mandates, as reported by The Texas Tribune.

However, the only official with the power to convene a special session is Gov. Greg Abbott.

On Wednesday, during The Mark Davis Show, Abbott responded to questions about the push from the Republican Party of Texas on calling yet another special session.

"So Mark, the reality is we're never done with special sessions. There's always an opportunity for a special session. It just depends on the circumstances. And so a special session can be called anytime, any day," said Abbott.

In the meantime, Texas is part of the 10 state coalition who sued the Biden administration over its COVID-19 vaccine mandates for federal contractors, private businesses and health care workers.
The lawsuits have not eradicated the vaccine mandate but have caused various federal courts to delay the Biden administration's requirements for healthcare workers and companies with 100 or more employees get their COVID-19 shots (or in some cases, be tested weekly), if they want to preserve their jobs.

"Here's the point," Abbott said during an interview, on Wednesday, with The Chad Hasty Show. "All of these federal-based vaccine mandates have now been stayed or halted because of federal court rulings. If it turns out that we do continue to win those federal court rulings, which I think is going to be the case, then there is no need to pass legislation concerning vaccine mandates because there won't be any vaccine mandates."

Apart from that, Abbott also recognized a fourth special session held only to pass legislation banning COVID-19 vaccine mandates might be pointless, since in the third session not even the Senate could pass the ban.
In its weekly newsletter, Dallas News's Austin Bureau Chief Bob Garrett observed legislators are trying to find cover for not pushing a special session on vaccine mandate bans.

Garrett wrote, "The Abbott on Mark Davis sounded a lot like the Abbott we've seen a lot of lately: Feeling the pressure."

He also mentions how Abbott seemed very attuned to the demands of his primary opponents Don Huffines and Allen West, testing the "political currents", and pondering when would be the best time to call the special session. Probably, when he feels the needs a little more "conservative juice", as Garrett puts it.

However, when referring to the Chad Hasty interview, Garrett describes Abbott as the shrewd politician who won a second term by a margin 8.5 points more than Patrick's 4.8-point margin. Recognizing lawmakers need to get past the Dec. 13 filing deadline to see if they have primary opponents.

Abbott's very generous, seven-figure campaign donors Michael and Mary Porter of Doss, Texas, have created a PAC called Texans for Responsible Government. It organized an amicus brief for members of the Texas House to sign. The brief was filed in the large-employer vaccine mandate case, and nearly all Texas House Republicans, including House Speaker Dade Phelan and newly minted member Ryan Guillen, signed on. Only Fredericksburg Republican Kyle Biedermann did not sign, presumably due to prior beef with the PAC donors who backed his primary opponents in 2016 and 2018, per Texas Tribune's Patrick Svitek. 

As Garrett mentions, Abbott surely recognizes that in any special session held after the filing period and before the March 1 primary, "he'll be on the hook for everything shadow governor Don Huffines can dream up".