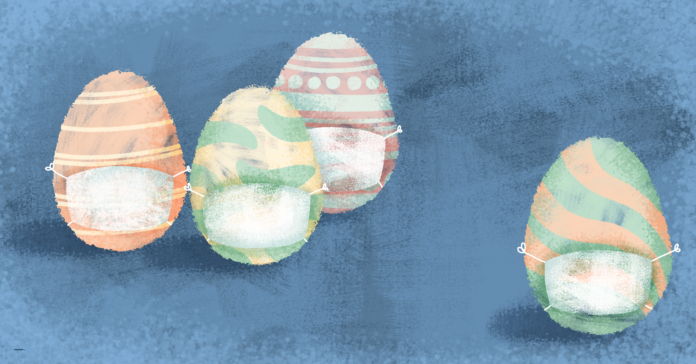 The Passover Seder includes the question, "why is this night different from all other nights?"
For families, Passover, Holy Week and Easter traditions are the same as always, but there's a new difference in 2020: they've become virtual events.
As churches, synagogues and other religious centers continue to keep their doors closed, it is up to families to keep the traditions of the season alive at home.
Religious leaders are providing families with liturgies, prerecorded messages and devotionals or livestreamed services.
In Houston, megachurch Lakewood will have celebrity guests Kanye West, Mariah Carey and Tyler Perry perform in a prerecorded Easter broadcast in an effort to reach more families than ever virtually. Houston Police Chief Art Acevedo and Houston Fire Chief Sam Peña will also be part of Lakewood's Easter prayer segments for first responders and medical professionals.
This season is also a chance for families to care for their neighbors by choosing to social distance, and remembering that a church is not simply a building but a community.
One Katy-area church hosted a drive-through communion with prepackaged kits for Maundy Thursday.
"We want to offer some sense of normalcy during this Easter season and offer your family a way to participate in communion during Holy Week," Trinity Baptist Church said on its website.
The church will also have Stations of the Cross set up and will livestream a sunrise Easter service in addition to a drive-in Easter Service families can tune into through the radio.
At home, families are continuing with traditional activities like a Passover Seder dinner or a backyard Easter egg hunt.
One family plans to paint eggs over a webcam, and then play a game of "Easter Quarantine Egg Hunt," by hiding the eggs in view of the camera and giving players three chances to spy the hiding places.
At other times when we aren't confined to home, the Passover Seder is a time for community outreach and empathy, with many Jewish families inviting unrelated friends to the dinner. This year, many have chosen to assemble and deliver Seder boxes to those who don't have a dinner to attend.
The Hill family in Austin organized a virtual Seder with both sides of their families. Rabbi Ranon Teller of Congregation Brith Shalom in Houston held a "Zoom Seder" using a shortened script developed by member Dr. Ron Moses.
Teller says the "Express Haggadah" is also a great solution for those who have never hosted a Seder before.
Families can also still enjoy singing songs, telling stories and saying blessings.
To remember the day, families can dress up and use a tripod to snap a group photo, before enjoying more holiday treats – or in one family's case, another service.
Houston interfaith couple Jeremy and Tracie Parzen were planning to have a FaceTime Seder and then watch Tracie's father, a Methodist preacher in Orange, Texas, give his sermon on Facebook.
"I love traditions, but you have to look at them in a new way, a way that isn't stale," Moses told the Houston Chronicle. "And this is not stale at all."