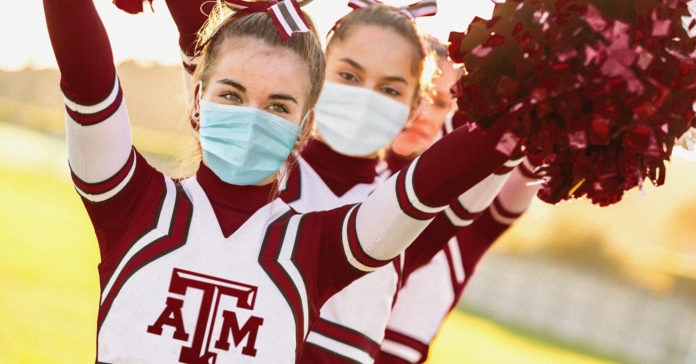 Albeit with new rules and the cloud of the pandemic's uncertainty, high school football teams have returned to practice fields across Texas. At the college level, the Big 12 Conference, which includes the University of Texas, Texas Tech, Baylor and Texas Christian University, announced Tuesday it is proceeding with the fall season, despite cancellations by other big conferences earlier in the week.
Gov. Greg Abbott has his personal opinions on how sports should be handled this year, but he is indicating he will not get involved beyond that.
"I support the student athletes and their decisions, but I think the health and safety and the careers of the student athletes come first," Abbott said Tuesday. "I would defer first to the choices and decisions those athletes want to make. And then second, if they choose to continue to play this season, make sure that the universities are working with them on protocols to ensure their health and safety during the course of the season."
The players want to play.
UT defensive back Caden Sterns tweeted, "Worked way too hard for the season to be canceled" and then followed up with another tweet using the #WeWantToPlay hashtag. 
Defensive back Josh Thomson joined in, tweeting: "Let the ones who are actually playing make a decision" and "No one should control what we want but us."
And Longhorns tight end Jared Wiley tweeted, "Literally poured everything we go into this sport. Grinding by ourselves for months during quarantine, changing our ways of living just so we can ball with our brothers … and y'all are wanting to take it away."
Over at Texas A&M, a member of the Southeast Conference, the season opener is still a go for Sept. 26.
"Our players have expressed their desire to play," A&M athletic director Ross Bjork told the Houston Chronicle Tuesday. "Until we're told we can't, we are not going to give up."
Rules issued by the University Interscholastic League allow practices and games to get underway now at the state's smaller schools, but Class 5A and 6A schools are delayed until after Labor Day. 
The UIL is mandating face coverings for all employees, parents, visitors and students at any UIL event. Students who test positive for COVID-19 must be cleared by a physician before they can return to UIL activities. This applies to athletics, cheerleading, drill teams, band and more. If someone involved in UIL activities is confirmed to have COVID-19, the school must notify the local health department and close off all areas that are heavily used by the infected individual until disinfection and sanitation can occur. 
"When the UIL came out with their rules, we were kind of happy-shocked," Big Spring head football coach Cannon McWilliams told the Midland Reporter-Telegram. "We started meeting a week and a half ago, got ready to roll, and here we are in the middle of two-a-days. It's exciting for the positive things to continue to go on here in Big Spring. This is my fourth year here, and so far it's been the best two-a-days we've had. It's just good to see the kids. It's good to get back to some type of normalcy, as long as I don't go home and watch some sort of news channel."
"I was scared at the beginning when all this started because we didn't know if we were going to have football season or if we were going to have anything for our senior year," said Splendora quarterback Jagger Kennedy in the Houston Chronicle. "Coming into the locker room and seeing all the guys dressed and ready to get out on the field, it got me excited."
Texas private schools are also cleared to resume sports, but like the bigger public schools, that won't happen until after Labor Day.