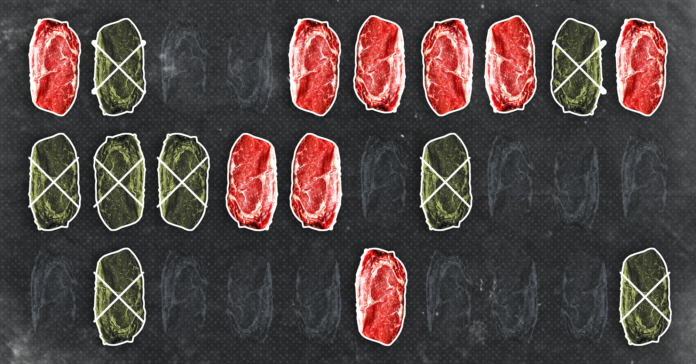 The steak stakes are high in Texas.
Initial impacts of the novel coronavirus on Texas' meat industry had been on the supply side, where suppliers were forced to pivot to meet demand and maintain inventory. However, over the course of the last few weeks, the issues surrounding Texas' meat industry have adjusted to protective measures.
As of Tuesday, the Department of State Health Services will be investigating outbreaks at two of Texas' meat packing plants.
Tyson Foods, along the Texas-Louisiana border, and JBS Beef, in the Panhandle, have both, over the course of the month, seen outbreaks in their rural facilities.
Earlier in April, Tyson Foods experienced an outbreak among several of its employees. The Department of State Health Services discovered 14 coronavirus cases and two related deaths tied to the facility's outbreak, according to the Texas Tribune.
Shelby County, where the Tyson plant is located, has seen one of the highest per capita rates of confirmed COVID-19 cases in the state. And using the Department of State Health Services report, nearly 20 percent of the county's current confirmed COVID-19 cases have ties to the Tyson incident.
Following an outbreak at its slaughterhouse in Colorado, JBS Beef saw another occurrence at its packing plant in Texas' Moore County. While the total number of cases is unknown, the county's per capita rate of confirmed cases has surpassed Shelby County and is the second highest in Texas.
In response to the recent outbreaks, both Tyson and JBS Beef have made statements regarding future protective procedures.
The JBS Beef facility in Moore County stated on its Facebook page that it will be working closely with county officials in regard to the recent outbreak.
Tyson Foods Senior Vice President Hector Gonzalez discussed protective measures going forward including identifying workers who demonstrate symptoms, social distancing and requiring face coverings.
And while Tyson stated on its Facebook page that it will be closing its facilities through Monday, no mention was made of the outbreak.
There are 32 meat processing plants in the state of Texas, and while a number are in urban areas, the majority are in rural parts of the state that are particularly unprepared to deal with an outbreak.
In the past decade, Texas has led the nation in the number of rural hospital closures, making up nearly one fifth of all closures across the United States. This has left more than a quarter of Texas' 3 million rural residents looking farther for emergency care. In the instance of a rural outbreak many Texans would have to go farther for care.