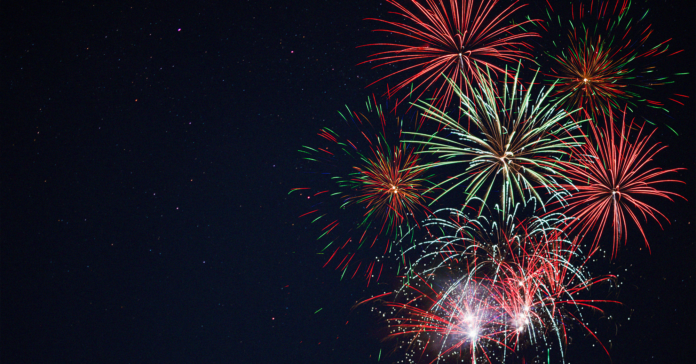 One of the state's largest holidays for public gatherings will look a little different this year. July 4 may not happen with a "bang" like it normally does, due to the increase in coronavirus cases across Texas, but Texans can still celebrate — safely.
Although some major in-person professional fireworks and holiday events have been "reimagined," like Houston's Freedom Over Texas, which normally has thousands of attendees, sales of fireworks for "at-home" use are booming — quite literally.
Fireworks sales began June 24 and will only run through midnight on July 4, per Texas law. Fireworks retailers are already saying this season is turning out to be one of their biggest yet.
"This was the biggest opening day we ever had," Jeff Coffee with American Fireworks in Waco, the largest retailer in Central Texas, told KWTX. "And we're expecting a 50 percent increase in total sales over this holiday period."
Top Dog Fireworks spokesperson Sue Davis echoed what all pyrotechnic experts and retailers are concerned about — keeping customers and employees safe as the demand for fireworks and sparklers spikes in the absence of city planned in-person firework shows.
Many retailers are also offering online ordering and pickup options this year as well, in addition to following state health guidelines for businesses that have reopened in Texas.
"If you're going to have a big show with everybody, wear your mask, social distance, wash your hands, be safe," Davis said in an interview with KPRC Channel 2.
If you're setting off fireworks at home, first understand where you can actually set them off because the laws differ around the state.
Fireworks — sold or set-off — are legal in unincorporated areas of Harris County but illegal in the city of Houston. The Woodlands and Conroe also prohibit fireworks inside the city limits.
If you live within a municipality, it's best to check with your local city hall for details, according to the Montgomery County Sheriff's Department, or call your local fire marshal to check if you're not sure.
Brazoria County does allow fireworks as long as they are set off at least 5,000 feet away from a city's prohibited area. 
If you're at the beach, be aware that it's illegal to set off fireworks on the beach. And in Galveston and Dickinson, many fireworks shows have been canceled in hopes of preventing large crowds. Violations of these laws can carry a hefty fine — up to $2,000 in Houston depending on how many fireworks you have.
But if it's legal where you are, have fun with it and be safe, experts say. Safety guidelines for setting off fireworks — regardless of the coronavirus — include buying from reliable sellers, reading the labels carefully, lighting one at a time, and having water and other safety supplies on hand.
For those who were hoping to catch a professional show, many cities, including Austin and El Paso, have canceled their city-planned celebrations. Texans who are hearing that their cities are canceling live professional firework shows altogether might find that tuning in to the Freedom Over Texas show online is a great alternative.
Austin's H-E-B Austin Symphony July 4th Concert & Fireworks event and Austin City Limits's Red, White and Willie Nelson Blvd. is canceled altogether this year, though the ACL event may be rescheduled, according to ACL. Sale or use of fireworks is illegal within Austin city limits. 
In El Paso, County Judge Ricardo Samaniego said he was banning all sales and use of fireworks throughout the county due to a combination of severe drought and COVID-19 concerns.
He said fireworks aren't "prudent" with the risk of fire and the temptation for people to gather. The city's mayor has also banned all gatherings over 100 people and emphasized that the city would not be putting on a show. Anyone caught violating this directive could face misdemeanor criminal charges and a $500 fine.
If you're in the city of Houston, don't worry. The Fourth of July celebration will be just as sparkly from the safety of your home or car. Houston Mayor Sylvester Turner is calling this year's Freedom Over Texas production a "socially distanced show."
The Freedom Over Texas celebration show will be broadcast from 7 to 10 p.m. on ABC13 and online. The broadcast will feature a concert portion with something for every music taste: the Houston Symphony Orchestra will perform for the first time since the pandemic began, performances from local rapper Bun B, along with country superstar Pat Green, rapper Tra Tha Truth, mariachi band Mariachi Imperial de America, and singers Los Luzeros De Rioverde. Lyle Lovett, Josh Turner, La Mafia, and Hunter Hayes will join in the show virtually. And the Military Warriors Support Foundation will present a combat-wounded veteran with a new home.
Reliant, a new sponsor this year along with Shell, will sponsor a grand finale of professional fireworks displayed downtown. Turner urged Houstonians to find safe ways to watch the finale — but people will not be allowed along the banks of Buffalo Bayou this year, a popular scenic viewpoint of the skyline.
"Watch it on TV, in your back yard, on your balcony, in your cars, parking lots downtown," Turner said during a press conference. "I'm sure people will find ways to watch."