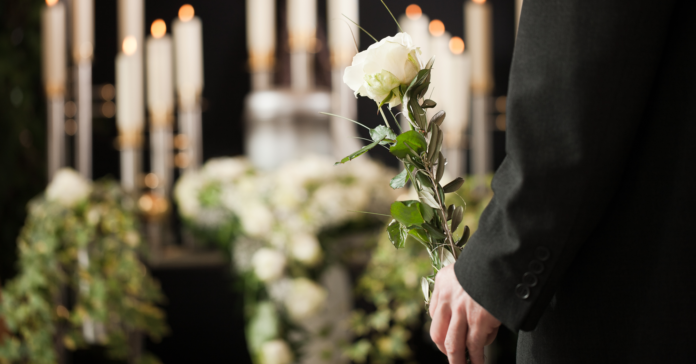 There are flowers and there are statements about fond memories and the presence of loved ones gathering in honor of a family member or friend — only from a distance.
The feeling of emptiness can be carved deeper while looking at a screen to say goodbye to a family member or friend, but for many that is how it is right now.
Although we connect daily in digital ways, a virtual tribute during this new normal can elevate the feeling of deep sorrow and mourning.
It's also tough on funeral homes and funeral directors.
"It's been very tough," said MLB Hall of Famer and mortician Andre Dawson in an interview this month with MSNBC's Craig Melvin about the impact COVID-19 has had on the funeral industry. "These times are very trying and challenging, and as tough as it is for the families, it is tough indeed for the business itself," the baseball star said.
"Our main focus and concern is to make sure at the end of the day the families know that we have given them our best effort," Dawson said.
In Texas, Rep. Christina Morales (D-Houston), a funeral director, has been hosting a free mask giveaway throughout the pandemic in Houston. Her grandparents opened the first Hispanic-owned funeral home in Houston in 1931, the Felix H. Morales Funeral Home.
On Thursday, Morales shined a light on how funeral homes and families are handling virtual goodbyes and tributes and the restrictions amid COVID-19.
"It is an especially difficult time to be grieving the loss of a loved one," she said. "It seems cruel that you must physically distance yourself from the people you love when you are in so much pain."
"As a society, we are adapting and working to ensure that families still have the options they seek for funeral services. Live-streaming has helped provide some closure during funerals, but many families are struggling to adapt to this new way of grieving. While many understand the importance of social distancing and masks, some are upset and angry with the limitations and added barriers of the current situation."
Technology
"Family members are not only making funeral arrangements remotely because of social distancing but their choices for arrangements are altered," Morales said.
Some funeral homes had already been using technology and developing online and phone options pre-COVID.
"At our funeral home, we have an online process where all arrangements are made. We are also supporting teleconferences and FaceTime calls with families and have found that technology has helped them come together during this uncertain time," Morales said.
"They can make difficult and sometimes stressful decisions about their loved one's final wishes from the comfort and safety of their home. Certainly, during these times, we have been able to see how helpful these platforms and systems can be not only for funeral providers, but for families as well," Morales said.
End-of-life Wishes
"As funeral directors, there are always some people that unfortunately pass suddenly. Most have mentioned to their family at one time or another what they would like in terms of an end of life ceremony," Morales said. "If one did not have specific wishes, many times families opt to have services without a visitation."
"Most wishes can be carried out at this time, but it has become more difficult, and there are added complications in finding clergy and musicians," Morales said. "Especially with clergy — many of them are older and are not comfortable leaving their home to speak at a funeral."
Every Loss
Even when a loss isn't related to the coronavirus, the grieving process and funeral planning are still affected.
It can be tougher to travel across state lines to attend a funeral or to be in a state where lockdown orders haven't been lifted.
For some now, a funeral has become a four-person graveside service and a broadcast live on Facebook for family and friends who cannot be there. 
At this time and during these circumstances, family members may find some comfort and a way to connect and share their memories by taking turns speaking from their digital device for a tribute that isn't perfect but still can be very intimate and special.
For those who are disappointed by the virtual funeral, or could not be there in-person to say their goodbyes, there could be solace in going to the cemetery individually to say goodbye or planning a future gathering.
Morales also adds, "many families have decided that they will have a celebration of life once the pandemic has subsided."
On May 4, Gov. Greg Abbott announced that funerals, memorials and burials should have accommodations for high-risk individuals. The standards that apply to churches, such as alternating rows and keeping at least six feet of distance between seats, apply.