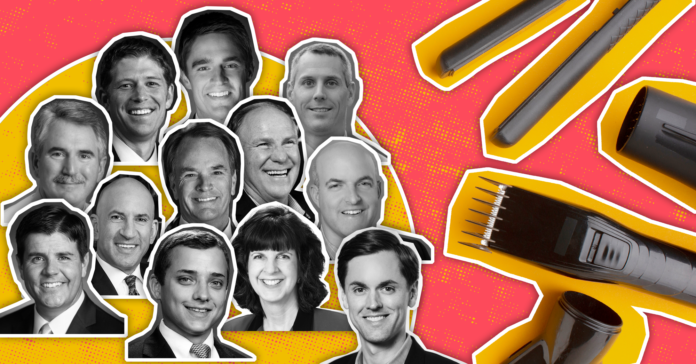 A few days after Gov. Greg Abbott announced that movie theaters, malls, retail stores and restaurants can reopen May 1, several Republican legislators are calling on him to also allow barber shops, hair salons and nail salons to reopen. Under Abbott's plan, those businesses are to remain closed until Abbott announces phase two of his reopen plan on May 18, at the earliest.
Abbott is being criticized by members of his own party for not opening more of the Texas economy faster, despite troubling signs that the outbreak has not slowed. Today was the deadliest day for COVID-19 in Texas with 50 deaths.
The crew of lawmakers challenging Abbott include Texas House Judiciary & Civil Jurisprudence Committee Chair Jeff Leach (R-Plano), State Reps. J.D. Sheffield (R-Gatesville), James White (R-Hillister) and Cole Hefner (Mt. Pleasant) and members of the hardline conservative Freedom Caucus – State Reps. Matt Schaefer (R-Tyler), Mayes Middleton (R-Wallisville), Matt Krause (R-Fort Worth), Kyle Biedermann (R-Fredericksburg), Briscoe Cain (R-Deer Park), Mike Lang (R-Granbury), Matt Shaheen (R-Plano), Valoree Swanson (R-Spring), Tony Tinderholt (R-Arlington), Bill Zedler (R-Arlington), and Steve Toth (R-The Woodlands), the newest member.
Pushing to open all of Texas sooner than public health experts have recommended is not a new position for members of the Freedom Caucus, who argued two weeks ago that all businesses are essential and should open immediately.
The Freedom Caucus has also jumped into the fray in Dallas over a nail salon that defied local and state orders requiring non-essential businesses to remain closed. Salon owner Shelley Luther was issued a citation after opening her business and received a cease and desist letter from Dallas County Judge Clay Jenkins. She has ignored both and keeps the salon open.
In a series of tweets, White implored Abbott, "Respectfully, ENOUGH!!! You are the only one that can STOP this!!!"
According to Luther, Abbott has reached out to her to seek help in getting businesses like hers open safely and sooner.
Leach also argued personal trainers should be able to get back to work, saying they are "uniquely trained" and can "effectively social distance themselves from others."
Abbott has shown no signs of revising his order about salons and barbershops. In a call with lawmakers last Friday, Abbott suggested he did not want to go the path of Georgia Gov. Brian Kemp, who was criticized by President Donald Trump for his decision to open barbershops and nail salons.