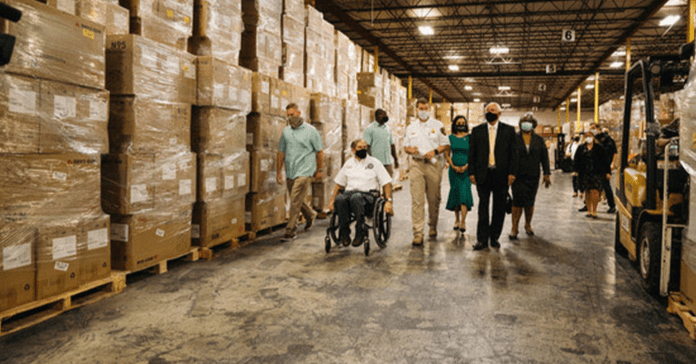 With schools reopening and flu season just around the corner, Gov. Greg Abbott traveled to a San Antonio warehouse Tuesday to provide an update on the availability of personal protective equipment in Texas.
The warehouse is one of 40 across the state that are being used to house the state's supply of PPE.
"We have abundant supplies to make sure we will be able to continue to provide PPE to schools, to hospitals, to nursing homes, to testing sites, to any operation in the state of Texas that is going to need PPE in response to the pandemic," said Abbott.
More than a billion dollars has been spent on PPE, $400 million of which has not yet arrived. The money paid for the distribution of more than 130 million masks, more than 33 million gloves, more than seven million gowns and more than four million face shields. About 59 million masks and 565 thousand gallons of hand sanitizer have been given to school districts.
Despite the supplies given to school districts, many teachers are buying masks, hand sanitizer and disinfectant on their own.
Abbott reiterated that school districts have the ability to choose when school resumes. Once a start date is selected, they have the option of opening in-classroom learning, remote learning or a hybrid. If they choose to start with virtual learning, they are allowed to continue in that mode for up to eight weeks. And, in the event there is an outbreak of COVID-19 during the school year, they may close and resume virtual classes for a short period of time to allow for disinfecting and control of the outbreak.
Abbott stressed those decisions are made by local school boards and superintendents, but he urged consultation with local public health representatives.
"A local school board can choose to make their decision based on what the local health authority says," said Abbott. "Nothing is stopping them from doing that, and they can fully adopt whatever strategy the local public health authority says."
Abbott's Tuesday travels also took him to McAllen, where he visited the McAllen Convention Center to view the COVID-19 treatment facility that has been set up there. This marks the second week the governor has taken to the road for staged news events. Prior to that, it had been weeks since he had appeared before the media for questions about the state's COVID-19 response, opting instead to issue orders and updates solely by news releases from his office.
Although there are some exceptions, most school districts, especially those in hot spots and the state's major metropolitan areas, are opting to start school after Labor Day with online instruction for the first weeks.