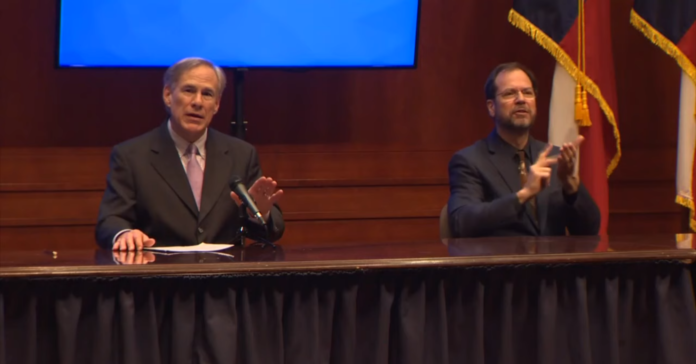 Updated April 27, 2020: Gov. Greg Abbott has announced he will let his initial executive order requiring all Texans to stay home to help fight the spread of COVID-19 to expire as scheduled on April 30.
---
Armed with data showing the spread of COVID-19 is beginning to slow in Texas, Gov. Greg Abbott said Friday that he is preparing an executive order for next week on reopening the state's economy. The governor was not ready to release any details of his plan but said his order will be focused on protecting lives while also restoring livelihoods.
"We can and we must do this," said Abbott.
Earlier in the day in a call with GOP activists, Lt. Gov. Dan Patrick said he envisions reopening business the first week of May.
"We're not gonna open up everything immediately, but it will be done in phases, but we need to get started, and I hope that's the first week of May, barring any unforeseen big spikes," he said.
Earlier this week, Patrick announced the formation of a task force to help guide the reopening process. The group is being led by Dallas-area businessman Brint Ryan, chairman and CEO of tax services provider Ryan International.
Word that the state's leadership is beginning to work on a plan to end the stay-home order was greeted with some harsh criticism on social media.
"While Texas remains the 50th state in per capita testing, there is zero chance state officials have the info they need to determine a safe to return date. Throwing dates around now, will only lessen confidence in state guidance," wrote one person on Twitter.
Another person tweeted: "27 Texans have died since yesterday's update but by all means let's get back to work."
Health officials have warned that ending the stay-home orders too early could lengthen the time it takes to get the disease under control here.
Abbott said that while Texas has not yet seen a peak in COVID-19, we are noticing a slowing in the rate of infection. He pointed out that even though Texas has fewer cases of coronavirus, it ranks second in the nation for recoveries, landing ahead of other states with far more cases.
To date, 11,671 people in Texas have tested positive for coronavirus, and 226 people have died.
Critics have complained that due to a lack of testing, there is no way to know how many cases of the disease there are in Texas.