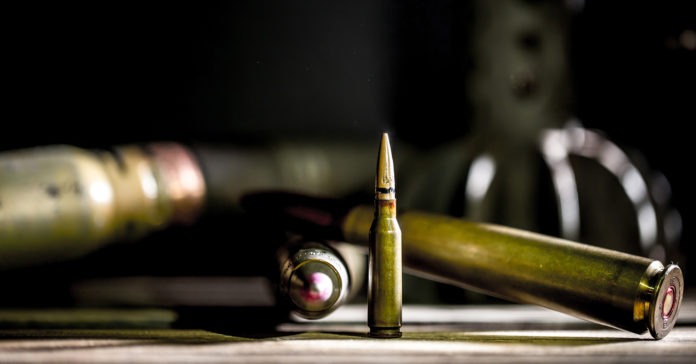 Gun sales are up, and ammunition is a sought-after commodity. Right now that's as certain as death and taxes. The United States has never seen so much firearm commerce. Some are even saying gun sales can be a predictor of an outcome.
What's happening nationally is also occurring in Texas. Firearm sales have increased exponentially while ammunition is becoming unavailable. It seems this trend is a byproduct of these challenging and changing times.
A 2020 survey of retailers conducted by the firearm industry trade association National Shooting Sports Foundation showed that 40% of the people who bought guns between March and May — approximately 2.5 million people — were first-time buyers, said Mark Oliva, NSSF director of public affairs.
He said these buyers were the fence-sitters who felt compelled to act due to the extraordinary events of the past several months.
"The gun debate, whether or not to own a firearm was theoretical. It was never an existential question until they made that decision that they needed to go out and buy a firearm," Oliva said.
In 2019, Texas had the highest number of registered firearms — more than 715,000 — while Florida had the second-highest with approximately 430,000 according to data from the Bureau of Alcohol, Tobacco, Firearms and Explosives.
This year will seemingly far exceed those numbers. Data from the FBI's National Instant Criminal Background Check System indicate the total number of nationwide background checks in 2019 was 28,369,750. As of July, the 2020 number is 22,819,271 so far.
Texas ranked third in background checks during June with close to 250,000 Texans seeking to purchase arms, according to KVEO ValleyCentral.com.
Ammunition has also been scarce but not due to shortages on the supply side, Oliva said. Ammunition producers can manufacture normal volumes but the demand this year is unparalleled.
"We're certainly seeing an elevated level of people buying firearms and consequently going along with that you're going to buy firearms, you're going to buy ammunition, to be able to use those firearms as well," he said.
How much ammunition is out there and who possesses it are other issues associated with the trend, said Rukmani Bhatia, senior analyst at the Center for American Progress, a policy institute. There aren't any federal laws mandating licensed gun dealers to conduct background checks on the ownership of ammunition she said in an email.
Why
Oliva attributes the uptick in gun sales to a confluence of factors, mainly COVID-19 and the protests sparked by George Floyd's killing in May.
More specifically, it's personal safety concerns due to fewer police officers on the street from the pandemic and some police departments informing citizens they would be reducing the number of officers on the street because of the virus, he said. And then the death of George Floyd and the ensuing protests spurred another round of gun-buying, he added. And lastly, the threat, or actuality, of defunding or dismantling police departments has some citizens worried.
"Those protests turned violent, they turned into riots, they turned into looting and people started again to take notice and that caused firearms sales to continue to remain high," he said. "And we're still seeing the effects of that now."
More Danger
But with more guns in the hands of citizens, safety concerns escalate. First-time buyers are acquiring these guns without knowing the risks involved in owning them, Bhatia said.
"Research shows that guns in the home are linked to unintentional shootings, including those involving children, as well as higher instances of suicide, as well as pose significant risks of homicide, particularly in homes experiencing domestic violence," she said.
Additionally, firearms bought during the pandemic will still be in the home and won't go away once the crisis has ended, she said.
"Most people live in states without any safety training requirements or safe storage laws," Bhatia wrote. "This means people are bringing guns into their homes without having to learn how to safely use them, clean them, load them, or store them."
The Giffords Law Center to Prevent Gun Violence, another policy organization, reported that besides the human cost of gun violence, it also creates an economic burden — $229 billion annually — shouldered by the taxpayer amounting to around $700 per person each year.
But for the time-being, gun ownership is irrefutably trending and the most popular firearm — in terms of sales — in the United States is the small defensive-use handgun, Oliva said.
"People are buying handguns to be able to defend themselves in their home, to be able to defend their loved ones."
Bhatia doesn't see it that way.
"This unprecedented spike in firearm sales means that there are more guns in communities across the U.S. and, simply put, more guns means there will be more gun violence."
Earlier this week, Trump Texas Victory Chair Lt. Gov. Dan Patrick put out a statement claiming that increased gun sales indicate a victory for President Donald Trump in November. 
That statement launched a battle cry from Students Demand Action in South Texas, who are also looking toward November.
"Failing to pass common-sense gun safety laws is a leading indicator pointing to President Trump and Texas Republicans' electoral failures in November," said Nahla Owens, a volunteer leader with the group. "They've had their chance to act, and they've let us down. We'll work day-in, day-out to elect gun sense champions come November."