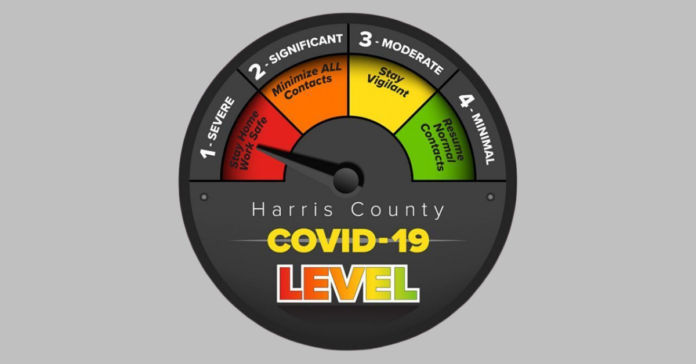 Asking "when did we lose our respect for human life and the economy," Harris County Judge Lina Hidalgo on Friday elevated the county's COVID-19 threat level from significant to severe, the highest level possible. The move comes with an urgent appeal for residents to stay home again, except for essential outings.
There is severe and uncontrolled spread of COVID-19 that is threatening to overwhelm the city's health care capacity within a matter of days or weeks, according to Hidalgo.
"Plenty of people are trying to grasp at straws, to point out a hospital bed here or there or say that we should simply close a few things," she said. "Nobody that opposes bold steps is providing me with an alternative interpretation of this data. Nobody that opposed these steps is providing me with any evidence that something short of a full stay home order will work to avert the crisis right now."
Hidalgo and her counterparts across the state can only encourage residents to stay home. Gov. Greg Abbott took the power to impose local restrictions away from mayors and county judges weeks ago when he was faced with criticism about the impact of his stay-home order on the state's economy.
"This is not a binary choice between health and the economy," said Hidalgo. "Simply setting it up the way some folks are attempting to do is a false dichotomy and is misleading. They are going to take us back to the very same place where the very same businesses and people are threatened to where we have to shut down again."
Abbott has refused numerous requests for a statewide mandatory mask order. He did, however, order all bars closed to in-person service as of noon Friday and reduced restaurant operations back to 50%.
Alcohol to-go remains an option.
The daily count of new COVID-19 cases in Texas neared 6,000 Thursday, and hospitalizations continued a 14-day streak of record-setting days. The Texas Medical Center in Houston went to its highest warning level Thursday, with predictions that ICU capacity would be exhausted in two weeks.