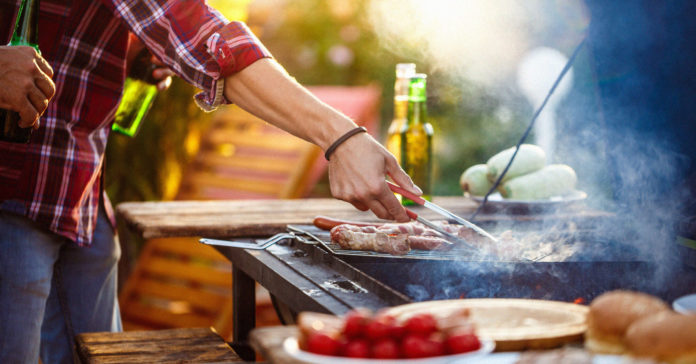 Instead of crowding parks for the Fourth of July, Texans went to drive-in fireworks and attended virtual shows. But not everyone cared about social distancing, and some went mask-free.
Although Gov. Greg Abbott mandated face coverings in public and banned gatherings of 10 or more, that didn't stop some in North Texas from going out and celebrating the fourth of July mask-free and gathering in red, white and blue bathing suits at Lewisville Lake's "Party Cove."
San Antonio's River Walk was decked out in red, white and blue and some weekend visitors took a river cruise, but the holiday festivities were canceled. Some parks that normally would draw crowds were closed, and the Alamo was a ghost town. There were some mask-less visitors walking at the River Walk and the scene was described in one tweet as "like the San Antonio river walk in the winter." 
Despite the county-wide restrictions, Corpus Christi-area beaches were busy enough. One beachgoer said, "we're staying as a group as our family and trying to stay as far away as we possibly can from others … we're definitely wearing masks if we go into restaurants."
In Galveston, a popular restaurant, The Spot, posted a sign to warn guests the eatery would be fined $1,000 if diners weren't wearing masks. One person said there wasn't clarity to the rules about masks, and you could still go to restaurants and to the Pleasure Pier. The city of Galveston announced closures on Friday. Another visitor to Galveston said it didn't make sense to close the beach but not the Pier. Some protestors held signs that said to open the beach and that "Beach Lives Matter."
In Houston, hundreds of protestors came together Sunday to demand justice for Army Specialist Vanessa Guillen, whose remains were found near Fort Hood. Mourners and protesters walked the streets with candles, held signs and placed flowers at vigils in San Antonio, Austin, El Paso and Fort Worth.
The Texas Tribune sent a few photographers out to capture what Texans did over the holiday weekend.  Some enjoyed the beach. Some went boating.  Some went to a waterpark. Other Texans tried out a drive-in fireworks display to celebrate the Fourth of July.