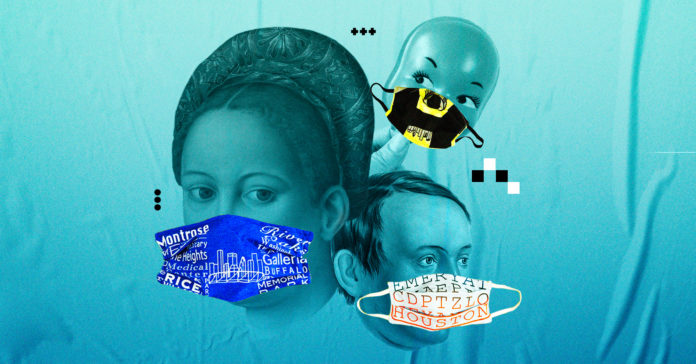 Some people started wearing face masks before the government recommended that protective measure, and now masks are a fashion statement.
The coronavirus can be contracted through droplets released by coughs, sneezes or simply exhaling, the Centers for Disease Control and Prevention has said.
The CDC advises the use of simple cloth face coverings that can be fashioned from household items or made from common materials at a low cost. It also offers advice on fit and washing.
You can buy Texas-themed masks to protect yourself and others against contracting the coronavirus.
Hospital staffers have been showing their style. Dr. Roberta Schwartz, executive vice president and chief innovation officer at Houston Methodist, described the staff's protective gear in an interview with Reform Austin last month.
"We have all kinds of new designer wear that we are trialing. I had become accustomed to knowing people from their ponytail, and now I'm knowing them from their COVID wear," Schwartz said.
Make Your Own
Here is a video showing you how to make a mask without having to sew.
On YouTube, you can find an assortment of videos on how to make a mask yourself, depending on your skill set. Here is one on using a glue gun.
Masks You Can Buy
Wednesday on the front page of Etsy.com, an e-commerce website that focuses on handmade or vintage items and supplies, masks were shown in a variety of colors and styles for every gender. There are polka dots, pineapples and bumblebee masks, and many are listed as being washable and reusable.
Fashion brands are jumping in. In April, Forbes reported 30 fashion and retail brands selling their own masks.
Celia Kaye Graham, owner and accessories designer of Union Rose on Etsy, wrote in an email about at first making masks for family and friends,
"It wasn't long before I started receiving requests from buyers," she wrote. "Within minutes of listing my first set of face masks, they sold out, and I have been working every day for the past month and a half to keep up with the growing demand."
"Supplying high-quality, ready-to-ship face masks that reach buyers quickly continues to be my goal. All of my masks are washable, reusable and made with a double layer of cotton. Made with adjustable cotton ties, they are a great fit for adults and older kids," Graham wrote in an email.
"Right now, I'm working on a pattern especially for younger kids under 10. Although most face masks are made with elastic, I chose cotton because it can be sanitized more easily and doesn't irritate those with latex sensitivities,' she shared.
In Gov. Greg Abbott's update on reopening Texas on Tuesday, he mentioned wedding receptions having the same guidelines as restaurants.
Ready-to-wear bridal designer Amy Kuschel raised over $10,000 to make 2,500 face masks that fit over N95 masks, Forbes reported. That's just one example of innovation inspired by the pandemic and social gatherings.
Alice + Olivia, known for their contemporary fashion, has a $10 mask with their iconic Staceface repeating pattern.
There are Hello Kitty masks, and fashion lovers are making their own masks, too.
Creative masks are an act of expression and also can create happiness and comfort during these challenging times, Fast Company reported.
Stitch Gallery in Austin has Texas-themed masks. Texas Humor has created masks with the state of Texas on them. The Texas Mask Initiative is making masks and its Instagram page says it is a donation-based group serving marginalized communities during the pandemic.
Popular Houston-based family photographer Liliana Serna is selling masks.
"The feedback from buyers has been outstanding, ranging from the comfort and quality of the masks to the quick shipping I offer," Graham wrote. "Whether it's a quick note to say hello or a story about their story surrounding the COVID-19 pandemic, I've enjoyed connecting with each and every one of my customers. Engaging with each other is more important than ever during this time of social distancing."
Looking to show your support for Texas sports teams? Here are Houston Texans face coverings. A gaiter scarf keeps the neck covered, and you pull the fabric up to cover your face. Here is a Houston Astros Mini Print Logo Gaiter Scarf. Here are masks for Dallas Cowboys fans.
The Psychology
"In Asia, people have various reasons to wear masks, such as cold weather, bad air, flu season, a part of an outfit, no makeup today, etc.," wrote Jean Hu, assistant professor in the Department of Psychology at Texas State University in an email on Wednesday.
"Wearing a mask is somewhat stigmatized in the U.S, and doing so represents that you are sick, timid, weak and the most serious stigma, that you are wasting medical resources and occupying protective equipment of medical personnel," she wrote. 
"As our knowledge on coronavirus grows, I feel that the stigma associated with wearing face masks in public is gradually disappearing," Hu wrote. "For example, now we all know the existence of asymptomatic carriers, then wearing a mask is not only to protect ourselves but also to protect others around us, and a better protection of the entire community will minimize the impact on the medical system."
"And the act of making masks and wearing them in public will also reshape our attitude, because people choose an act, they will feel emotionally attached and will defend it. I think our attitude towards wearing masks has fundamentally changed, and this open mind and respect for science may still be effective after this pandemic, and help us deal with the next one," Hu wrote.
"People are very attuned to social pressures. One thing that we start to pay attention to, even when we are very young, is how everyone around us is behaving. If most of the people we see are doing something, we tend to follow their example," wrote Jennifer Clegg-Petz,Ph.D., Assistant Professor in Psychology at Texas State University, who specializes in studying the development of conformity across cultures.
"We're even more likely to copy a behavior if someone we think is powerful, important, or especially knowledgeable (what we would call "prestigious") is also participating in the behavior. Wearing a mask can work in the same way. If everyone around us is wearing a mask in public, especially people we admire or trust, we're probably more likely to wear a mask," she said. "If you want to encourage those around you to wear masks, show off your behavior! Take a selfie in a mask and post it to social media. Like other peoples' pictures when they are in masks. Wear your mask out in public (while maintaining appropriate social distancing guidelines)."
Masks Unite
Hashtags such as #MaskIsMySuperPower and #MaskingForAFriend have caught on across social media platforms. The posts involve showing photos of the wearers' mask and stating the power of protection against COVID-19.
Not Everyone
While wearing a mask can seem like a healthy option, CNN reported Wednesday morning on the psychology of those who don't like to wear masks and whether the guidance to wear a mask meeting infringes on civil liberties. Wearing a mask can be considered similar to not smoking around other people.
An eatery in Dallas asked the staff to leave their mask at home, CBS News reported.
Do you have a favorite mask?
Here are masks that caught our attention recently on social media.
Real leaders wear masks. pic.twitter.com/loNvAhHNJQ

— Scott Dworkin (@funder) May 6, 2020
Is it weird to have a favorite face-mask? Because this Texan girl loves this one (as they say: you can take the girl out of Texas, but you can't take the Texas out of the girl). pic.twitter.com/ViTjpHiAx6

— Anita Powell (@6ArmsPowell) May 3, 2020
During elections in Africa, almost everyone can get a Free T-shirt/cap. It's different when the vulnerable need Face masks #Covid_19 pic.twitter.com/f4IbnealsB

— African (@ali_naka) May 6, 2020
Even dogs know you need to wear masks in public! pic.twitter.com/EUgFFEf7bH

— DogsOfKFF (@KffDogs) May 5, 2020
Momma's home-made masks 😻🔥 pic.twitter.com/daOopkShim

— Cienne Cruz (@cienneycruz) May 5, 2020