After receiving approval from the FDA on Saturday, Houston Methodist Hospital became the first academic medical center in the nation to transfuse donated plasma from a recovered COVID-19 patient into a critically ill patient, according to a press release from Houston Methodist.

Physician scientists recruited blood plasma donors on Friday from the 250 patients at Methodist who have tested positive for the new coronavirus. Each donor gave a quart of blood plasma.

Plasma from a recovered patient contains antibodies made by their immune system that killed the virus in their body. The hope is that transfusing this plasma into a patient currently fighting the disease will help them recover, too.

So far Methodist has infused two patients, Director of Public Relations Stefanie Asin said.

The concept in use here, convalescent serum therapy, dates back more than a century. Such treatments were used during the Spanish flu pandemic of 1918, a diphtheria outbreak in the 1920s, and a flesh-eating bacteria epidemic in the 1930s, Houston Methodist's press release said.

Dr. Eric Salazar, principal investigator and a physician scientist in the Department of Pathology and Genomic Medicine at the Houston Methodist Hospital and Research Institute, said that of the patients who have recovered from COVID-19, nearly two-thirds may meet the criteria to donate plasma. Patients will not be eligible to donate if they have critical underlying conditions or advanced age.

Donating plasma is similar to donating blood and takes about an hour. Plasma donors are hooked up to a small device that removes plasma while simultaneously returning red blood cells to their bodies. Unlike a regular blood donation, in which donors have to wait for red blood cells to replenish between donations, plasma can be donated more frequently, as often as twice a week, according to the press release.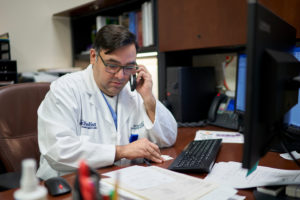 Two months prior to the Food and Drug Administration issuing guidelines for convalescent serum therapy on March 24, the Houston Methodist team was preparing, designing a COVID-19 molecular test to confirm infections and setting up operations to collect patient data in preparation for the pandemic, according to a news story on the Texas Medical Center's website.

"Convalescent serum therapy could be a vital treatment route, because unfortunately there is relatively little to offer many patients except supportive care, and the ongoing clinical trials are going to take a while. We don't have that much time," Salazar said.
Houston Methodist is seeking additional approval from the FDA for follow-up studies, and possibly a multicenter national trial on the effectiveness of convalescent serum therapy against the COVID-19 virus.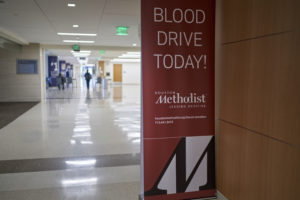 As the death toll rises to more than 4,000 across the United States, the predictions are frightening. The New York Times reported today that White House science advisers released models predicting 100,000 to 240,000 virus deaths. Also, CNBC reported Tuesday that data from the Centers for Disease Control and Prevention is showing that people with chronic lung disease, heart disease, diabetes, or those who smoke may face an increased risk of severe complications or death if they get infected with the virus.

There is a lot to learn about this rapidly spreading disease, Houston Methodist President and CEO Marc Boom said.

"If an infusion of convalescent serum can help save the life of a critically ill patient, then applying the full resources of our blood bank, our expert faculty, and our academic medical center is incredibly worthwhile and important to do," he said.