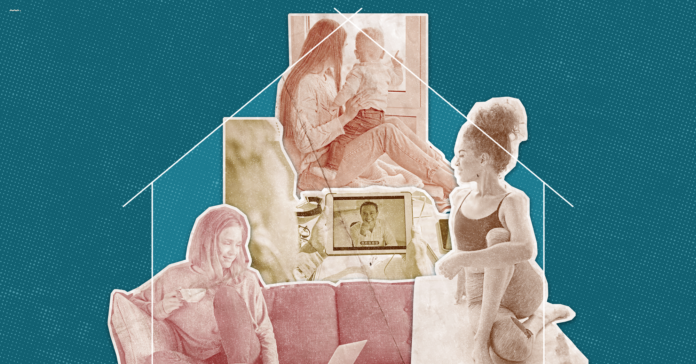 While Texans are homebound and social distancing has us on high alert, our mental health is also at risk. While we turn to social media and watch nonstop news on how the coronavirus is taking hold of the nation, it is easy to become depressed, stressed, feel lonely and isolated.

Here are three tips for managing your mental health during the global crisis because our mental health affects our physical health. Treating our mental health is about treating the fear we feel.

Be aware of how you are using social media
It's normal to want to connect with friends and family through these platforms. It can make us feel close and connected. But a study from Texas Tech University this past fall found that social media platforms such as Facebook and Instagram often present the good, the amusing and lighthearted, and the more time spent on social media, the less time is spent on talking about the negative emotional experiences happening.

The posts we see online don't always express the true feelings of the real struggles, uncertainty, confusion we may hold inside and which can fester.

"There are a number of motivational factors for why an individual logs onto their social media sites. Why we are using is one of the indicators for how our social media site use will impact our well-being," Jaclyn Cravens, Ph.D., LMFT-A, Assistant Professor of Couple, Marriage, and Family Therapy at Texas Tech University, wrote in an email to Reform Austin.

"Often we look at social media use and outcomes based on the quantity of use – how much time we are spending on the sites. However, what tends to be more important than the quantity of use is the quality of use – how are we using the sites? Are we reaching out and connecting with loved ones to maintain connection during social distancing? Or are getting on to manage boredom, deal with stress, or find answers surrounding the uncertainty of the pandemic? Using to escape boredom or manage stress can lead to increased stress and decreased well-being."

Relying on social media as an outlet to feel better about this crisis around us can mean not expressing what we need to let out.

2. Protecting our inner-self and mental health
Today, in a segment about mental health on CBS News, Dr. Lucy McBride, an internist in Washington, D.C., spoke about how physical and mental health are related. While the world is dealing with an enormous crisis of physical health with coronavirus, Dr. McBride said this is also a mental health crisis.

"It is normal to be anxious," Dr. McBride explained. "We are wired as human beings for survival, so our natural stress hormones are activated when we face a threat, and this is a big threat."

McBride tells her clients to replace fear with facts, and to focus on self-care.

She also tells her clients to take enormously deep breaths and to download a meditation app on their phones, if possible.

Meditation apps can bring us back to the present moment, and the techniques can be calming for our stress hormones, she explained and suggested getting back to nature while keeping distance from other people, and movement.

"Moving our bodies discharges stress hormones and can help us quiet our minds," she said.

Self-care books and videos on meditation can also help. Here is a list of meditation apps.

3. Telehealth services to cope with the stress
As the number of coronavirus cases rises and our lives are disrupted and we become more isolated, telehealth is helping to provide medical advice and mental health services. 

"Telehealth is a good option for people whose providers offer it. Telehealth services reduce the risk of exposure to healthcare workers and patients at healthcare offices," said Scott Packard, Houston Health Department Chief Communications Officer in an email. "We encourage people to check with their healthcare providers to see if telehealth services are offered."
In response to the coronavirus, mental health facilities and providers are going virtual to offer access for the mental health needs of Texans, WFAA reported. Help can be provided through your phone, computer or tablet.

Hotlines and helplines are available. If you need help finding a resource, the hotline of the Here For Texas Mental Health Navigation Line can help to find mental health and addiction resources, including telehealth options.

Also, the North Texas Behavioral Health Authority has a hotline that provides mental health support and psychological aid for those dealing with COVID-19.

For students, Arlington ISD has created a counseling services hotline for students to school counselors' direct line, where they can talk about the stress they may be feeling because of the outbreak and any anxiety.

KPRC in Houston has a list of mental health telehealth therapy services.

In West Texas, mental health and counseling facilities are working to provide critical services through telehealth.

Telehealth programs are taking off and creating a boom of virtual connection in this time of need.