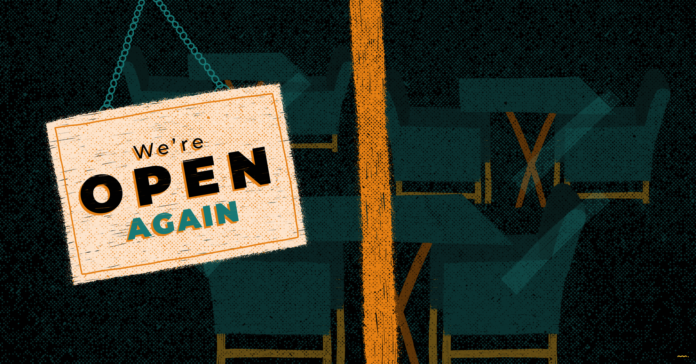 Gov. Greg Abbott is expected to announce this week how and when Texas will reopen after weeks of social distancing and stay-home orders in response to COVID-19. The news has sparked both fear and hope.
There are consequences whether we wait or move too soon.
The country's top infectious disease adviser, Dr. Anthony Fauci, told CNN on Sunday that reopening comes with "extraordinary risk." He was doubtful that America would be able to safely return to normalcy on May 1, a date President Trump had previously targeted. Though Fauci expressed hope that some businesses might be able to re-open with enhanced restrictions and cleaning protocols, there is concern that doing so would contribute to viral spread.
"We know people will be getting infected," he said. "That's just reality."
The reasoning for wanting to restart the U.S. and Texas economy is obvious. The oil industry is on life support and more than one million Texans have filed for unemployment. Considering the difficulty many have had connecting with the flooded system, that number is likely far below the actual count of people who are out of work.
"I haven't been able to get a call through in days," said Erin Diaz of Houston. "I don't think landlords and other bill collectors will accept busy signals as a form of payment. It's been a week without success in getting through. It's absolutely ridiculous."
The outbreak has been rough on the supply side as well. Despite the small-business aid that was passed in the recent relief bill, some Texas businesses are closed permanently. Clothing stores, gyms and salons are among the hardest hit. There is real concern that a great deal of the Texas economy won't survive if stay-home orders stay in place into June.
"We can't have unreasonable expectations. After 9/11, the travel and tourism industry took the better part of five years to adjust and recover," said University of Texas business professor Brad Gold in the Houston Chronicle. "As economic activity returns, the money may not be spent the same way. The end result is some businesses and entire products may cease to exist."
That said, there are many who question whether Texas has enough data regarding the extent of infection here. We know that at least 13 percent of all Texas nursing homes have had at least one case, and that the virus spreads rapidly and fatally through those populations.
In addition, national trends show that minorities are making up a far larger percentage of coronavirus fatalities than whites, but Texas lags behind tracking that data as well. With only 148 tests per 100,000 residents, Texas is almost dead last in the nation when it comes to testing. That is the reason many find it difficult to imagine a safely coordinated return to work order when the information needed to execute it is unavailable.
Right now, the San Francisco area might be the best place to look for guidance. The Bay Area was home to one of the first major outbreaks and also to one of the best and most stringent responses, testing more than twice as many people as Texas.
Santa Clara health officer Sara Cody has called for a sustained reduction of new cases for fourteen days – the typical incubation period of the coronavirus – before considering lifting shelter-in-place restrictions. With California roughly two weeks ahead of Texas in its outbreak timeline, it can provide cues on when and how we should begin trying to send people back to work.
For now, the governor is playing things close to the vest, saying only that testing will be an important component of his plan. He has promised more details later in the week.