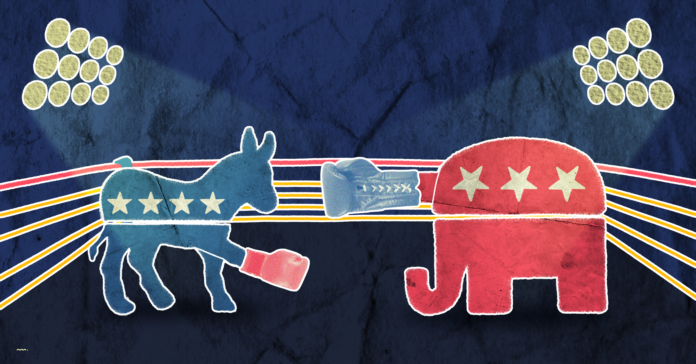 Before the COVID-19 outbreak shifted public attention from the presidential race to the public health and economic crisis, political prognosticators were signaling that Texas would be an election battleground this year.
With Republicans holding all nine statewide elected offices, both U.S. Senate seats and majorities in both houses of the state Legislature, Texas has been reliably red since the last Democratic statewide officer-holder was defeated 26 years ago.
Jimmy Carter was the last presidential candidate to carry Texas. That was in 1976.
But new polling data gives Democrats reason to believe the election will be more competitive this year than it has been in decades.
"Seven polls in a row show Donald Trump either barely ahead, tied or losing to Democrats in the state of Texas," said Abhi Rahman, director of strategic communications for the Texas Democratic Party.
Rahman's position is borne out by the latest presidential poll by the University of Texas at Tyler and The Dallas Morning News, which shows Trump tied with presumptive Democratic nominee Joe Biden at 43% of poll respondents. (Five percent chose other candidates, and 9% were undecided.)
"Not only do we believe Texas is a battleground state, we know that Texas is the biggest battleground in the country," Rahman said.
A poll by Monmouth University finds the presidential race continues to tighten in Texas as Trump's approval ratings plummet over his handling of the pandemic. Americans are distrustful of his harmful ideas such as treating COVID-19 by injecting or swallowing disinfectant. Americans are also wary of his unbridled push to swiftly reopen the economy when most feel it's too soon and health care experts still advise against it.
Despite Trump's polarizing behavior, most Republicans remain loyal.
"The presidential race in Texas is competitive, and Texas is probably a battleground state," said Republican political consultant Bill Miller. "Democrats are doing better than they have in decades, but it's still early in the game, and a lot can happen before November.
"Yes, Donald Trump is a lightning rod," Miller said. "But the election will be decided on issues and left-progressive issues like Medicare-for-all, taking away guns and relieving student debt don't bode well in conservative Texas."
Emboldened by former Democratic Congressman Beto O'Rourke's narrow loss to incumbent Republican Sen. Ted Cruz in 2018 and Democratic pickups of multiple Congressional and Texas Senate and House seats, Democrats are building on that momentum for the 2020 contests.
Democrats' strategy includes ambitious voter registration drives and get-out-the vote campaigns buoyed by generous funding and additional staff and resources.
With 38 Electoral College votes on the line, the second most in the nation, top national Democratic leadership organizations are investing heavily in Texas this year, Rahman said. The Democratic National Committee has tripled its investment in Texas since 2016, while the Democratic Senatorial Campaign Committee has also made its largest investment in Texas this election cycle.
Likewise, the Democratic Legislative Campaign Committee is investing heavily in Texas.
In an email to Reform Austin, DLCC Press Secretary Christina Polizzi wrote, "The Texas state House is one of our top target chambers and so far this cycle we've invested nearly $300,000 in flipping the state House blue.
Additionally, the Democratic Congressional Campaign Committee has opened an office in Texas for the first time.
For the Republicans, Cruz' close call and multiple GOP casualties in suburban Congressional and Texas House and Senate districts have been a wake up call. Among lessons learned, demographic shifts have made suburbs more diverse and less reliable as havens of GOP voters.
Republicans, too, are marshaling resources in Texas with the help of deep-pocketed out-of-state donors, including large sums from a super PAC affiliated with billionaire Charles Koch's Americans for Prosperity.
The Koch-backed Super Pac is spending more in Texas this year than any other state to support the re-election of U.S. Sen. John Cornyn and help Republicans recapture a Republican majority in the U.S. House of Representatives.
Democrats also have more ambitious goals than defeating Trump in Texas. They also want to defeat Cornyn, defend the high-profile 2018 Congressional pickup seats of Collin Allred in Dallas and Lizzie Pannill Fletcher of Houston and win at least some of the five Congressional seats that are open due to retirements of long-time GOP incumbents.
Democrats are ramping up efforts to flip the Texas House ahead of redistricting in 2021. A favorable voting map for Democrats would be detrimental to keeping Texas a Republican stronghold.
"This is our moment," Texas Democratic Party Executive Director Manny Garcia said in a statement. "We will win the White House, take out John Cornyn, flip several competitive Congressional seats, break the supermajority in the Texas Senate, take back the Texas House and win hundreds of local elections across the state of Texas."