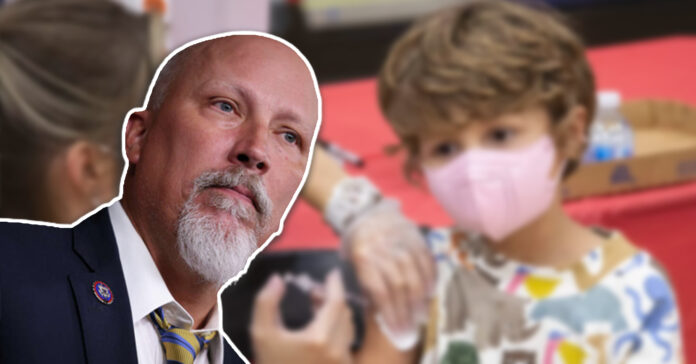 U.S Rep. Chip Roy, a Texas Republican running for reelection in Texas' 21st Congressional District, got called "liar, liar" by The Houston Chronicle after they fact checked his claims that the COVID-19 vaccine for kids under 5 isn't based on science.

"We rate this claim as Pants on Fire," the Chronicle wrote.

Basis of Roy's Claim

In a Feb. 1 tweet, Roy tweeted, "Literally using the force of government and the culture of fear to jab children under 5 — with zero basis in science — to make billions of dollars. Shameful, @pfizer."

Roy linked to a Jan. 31 New York Times article that reported the move made by Pfizer and BioNTech to get the Food and Drug Administration to authorize a COVID vaccine for children under 5 years old as a two-dose regimen while they continue to research how well three doses work.

According to The Houston Chronicle, a spokesperson from Roy's office wrote in a Feb. 3 email: "Rep. Roy's tweet was intended to bring attention to the fact that, not only there is not a pressing need to vaccinate children — who are extremely low risk for hospitalization and death from COVID-19 — but, according to CNN, Pfizer's initial trials on a two-dose regimen for children under 5 did not provide sufficient immunity, causing them to begin a new trial adding a third dose."

Roy is concerned with authorizing emergency use for a two-dose regimen when the data for a third dose is still being collected.

What are the facts?

Let's break it down into 3 parts.

1. Is Pfizer's two-dose regimen safe?

According to the FDA's Feb. 1 news release, Pfizer-BioNTech studies show that a two-dose vaccination program for young children provides a notable level of protection against Covid-19 with no safety concerns.

In an article published by Yale Medicine , Pediatric infectious diseases specialist Thomas Murray, MD, Ph.D., confirms two doses might not necessarily fully protect someone against infection, but it does reduce the risk of infection and offers significant protection from severe disease and hospitalization.

"The vaccines have a very strong safety profile from a risk-benefit analysis. Given how contagious this new variant is, it's important that people who are eligible for vaccination and/or boosters get them," he says.

2. Why is there a need for a third dose? (is it safe?)

In mid-December, Pfizer and BioNTech announced that children 6 months to two years old who were given two doses of the vaccine at a tenth of the strength of adult doses produced an immune response comparable to that of young people ages 16 to 25. But among children ages 2 to 4, the response was less robust.

Due to this setback, the company decided to evaluate a third dose of 3 µg for children 6 months to under 5 years of age. These actions commit to carefully selecting the right dose to maximize the risk-benefit profile, according to the FDA's news release.

In a Feb. 4 email, Pfizer spokesperson Sharon J. Castillo confirmed that Pfizer believes a three-dose series would provide important protection against omicron and future variants.

She also stated that a series of three doses or more are not uncommon in pediatric vaccines.

The actions taken by Pfizer and BioNTech are based on data that show the effectiveness for three doses of the vaccine for people 16 years and older, and of early laboratory data with Delta and other variants, that suggest people vaccinated with three doses of COVID-19 vaccine may have a higher degree of protection.

To verify effectiveness and safety, Pfizer's clinical trials are being administered to thousands of children worldwide including in the U.S.

3. Is it an emergency?

There are more than 19 million Americans under 5 years old.

According to the FDA's Feb. 1 news release, the emergence of the omicron variant is the main reason the FDA is prioritizing a vaccine for children under age 5, highlighting that hospitalization among children spiked due to the Omicron surge.

According to data released in December by the Centers for Disease Control and Prevention, the hospitalization in young children infected with COVID rose to its highest levels since the beginning of the pandemic.

More than four in 100,000 children ages 4 and younger admitted to hospitals were infected with the coronavirus as of Jan. 1 — double the rate reported in Dec. and about three times the rate last year.

By contrast,  the rate of hospitalized 5- to 11-year-olds – who are eligible for the COVID vaccine – with Covid was 0.6 per 100,000, roughly the same figure reported over the past many months, as reported by The New York Times.
"The majority of our hospitalized kids are there because they weren't eligible for the vaccine or they didn't get it," said Yale Medicine Dr. Murray.

In conclusion, the FDA's decision to authorize emergency use of the vaccine would most probably be based on the review of the scientific data available, and a consequence of the imminent COVID-19 variant threat.
The evaluation of effectiveness and safety would be imperative and not overlooked.