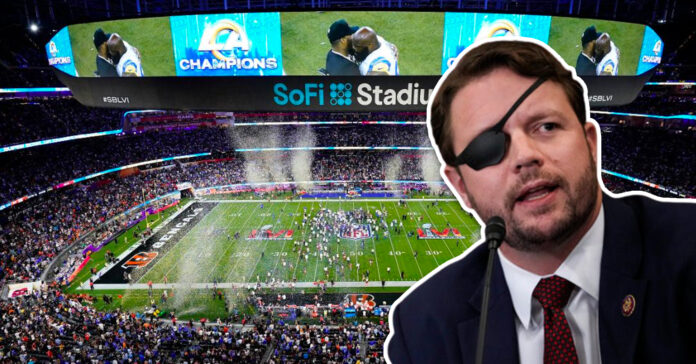 At Sunday's Super Bowl, celebrities outright neglected California's indoor mask mandate and Rep. Dan Crenshaw – opinionated as ever – was not having it.

On Monday's "Fox & Friends" show, the Representative criticized the celebrities who were maskless at the game.

"I think this is just increasingly frustrating for Americans as this 'rules for thee, but not for me' nonsense occurs," Crenshaw said.

"They really don't believe the masks work or they are effective in these cases. They know that people can go out and live their lives. They will continue to do it and not note the hypocrisy that they are engaging in," Crenshaw said.

He then pointed out celebrities only put on a virtue-signaling performance to appear they care the most about the pandemic.
Crenshaw wasn't the only one to call these celebrities out, social media erupted at the sight of Jay-Z, Charlize Theron, LeBron James, Jennifer Lopez, and Ben Affleck enjoying themselves at the game without a mask while they were not eating or drinking.

In the past, Crenshaw himself has been criticized for his approach to the pandemic, including the violation of mask mandates at events.
Houston pediatrician Christina Propst went as far as organizing a letter calling out Crenshaw for "spreading the virus of disinformation."

"He trusts Texans to "do the right thing" by wearing masks while refusing to do so himself and calling Houston public officials "fear mongers" and "tyrants" for implementing common-sense safety measures," the letter said.

Like many other Texas Republicans, Crenshaw has been using the pandemic as a political ploy and has been known to change his mind on issues like mask mandates if it garners him more support.

He has gone from claiming masks "are NOT effective in preventing the general public from catching COVID," to saying he believed "masks in confined spaces should be strongly promoted."

He supported Gov. Greg Abbott's statewide mask mandate saying it was "a targeted measure" , and later stood behind the Governor's decision to lift the mandate against CDC recommendations.

Crenshaw also introduced the Stop Mandating Additional Requirements for Travel (SMART) Act to end the federal mandate requiring people to wear masks on public transportation and later "exposed" the CDC for not having viable "proof" for a mask mandate order.