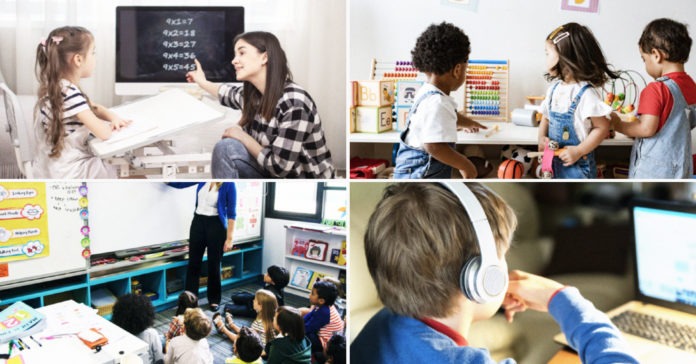 Parents have a hard choice to make this year about school for their kids: completely virtual, going back in person, a mix of both options, or even in some cases, hiring a teacher to do a co-op homeschool with a small group of students.
The state is allowing school districts to conduct learning online for up to the first eight weeks of the fall semester, but after that, it's up to parents to decide what is best for their children. The concerns are many: how can I ensure thorough education? Can I afford a private teacher? What if I don't have the technology, resources, or money to supplement my child's education if I don't think it's safe to go back? Will my child fall behind, or are they already behind after this spring?
The Centers for Disease Control and Prevention has released a comprehensive guide and decision-making tool to help parents weigh the risks of returning to school or finding an alternative option. They suggest thinking through things like class size, where the school is located, and the daily schedule and instructional formats offered by the school district before making a decision.
In-person teaching might offer easier access to other school services, like meals in the cafeteria or access to a nurse who can administer medication. Additionally, in-person school options have always shown to improve the learning response from students, offer social and interpersonal learning benefits, and take the burden of overseeing day-to-day learning or after-school care off the shoulders of working parents. But the downside to it is, of course, that the risk for contracting the virus is higher, as well as the chance a student could bring it home, infecting their entire family, including high-risk family members.
"Families will differ in their choice of instructional formats based on whether the student or members of the household are at increased risk of severe illness, the student's academic needs, the level of COVID-19 spread in the community, available school transportation options, school ability to execute recommended guidelines, the student's social-emotional wellbeing, comfort and familiarity with the school's reopening plans, and the family's situation and needs," the CDC guidelines note.
For parents considering alternative or virtual options, "learning pods," are gaining traction as a popular option. The parents in a neighborhood or specific area of a city pool their resources and find ways to make virtual learning easier and more effective. A college student, nanny, or private tutor might be hired to oversee small groups of students learning virtually with curriculum through their own school, either public or private. Or parents could chip in to hire a private musician or artist to supplement extracurricular and enrichment learning while students don't have access to those in school or after school.
But key to these virtual options is the reality that they're most accessible to parents who actually have the resources and money to make them happen.
A bigger concern for some parents across Texas isn't what they'll do for school options: it's how they'll manage it. Data has shown that coronavirus has disproportionately affected low-income, minority, and people of color, and those families are the ones more likely to not be able to afford private school, or technology and other supplemental resources — like homeschool materials or private tutors — if their children can't learn in person in public school.
According to a 2017 census survey, about one child in seven lacks home internet access, and the fraction was twice as high in families with low incomes and less educated parents. In Texas, the majority of students, often in rural school districts as well, fall into this category.
The decision-making process and the link to the gap between race and income is clear from data from surveyed parents: A University of Texas and Texas Politics Project poll earlier this summer showed that 65% of Texans said it was unsafe for children to return to school. Black and Hispanic Texans were more likely than white Texans polled to say it was unsafe.
As parents think through options that may be largely guided by what they're most worried about — whether that's making sure their child learns what they need to progress in their grade, navigating social or learning disabilities, or simply just survival — it's clear that the choices parents make this fall could bring to light even more disparities in Texas' public education system.

"We're about to see what happens when we turn up the volume on families and turn it down on schools," wrote Paul von Hippel, an associate professor in education policy at the University of Texas at Austin, in an opinion piece this spring on how the pandemic would affect children's learning. "If families differ in their ability to support their children's learning, especially during an economic crisis, this is when we're going to see it."