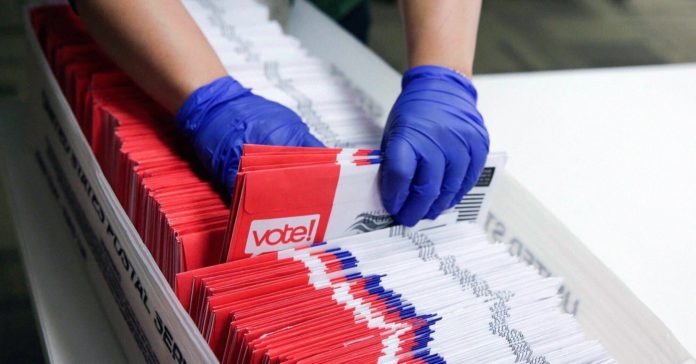 Texas Attorney General Ken Paxton wants to clear up any confusion about mail-in ballots, and he is doubling down on restrictions on requesting mail ballots if voters are afraid of contracting COVID-19 by voting in person.
Paxton provided guidance on what qualifies to be eligible for a mail-in ballot and what doesn't in a letter last Friday to county judges and county election officials.
"Based on the plain language of the relevant statutory text, fear of contracting COVID-19 unaccompanied by a qualifying sickness or physical condition does not constitute a disability under the Texas Election Code for purposes of receiving a ballot by mail," he wrote.
Two separate lawsuits are challenging his position.
To receive a ballot by mail, Paxton's letter continues, the voter has to have a sickness or physical condition, and the sickness or physical condition has to prevent the voter from appearing in-person without needing personal assistance or appearing in-person doesn't mean injuring the voter's health.
"The integrity of our democratic election process must be maintained, and law established by our Legislature must be followed consistently," Paxton said in an article by Houston Public Media Friday. "My office will continue to defend the integrity of Texas's election laws."
But there is concern for voters' health.
"The simple fact is that no Texan should have to choose between their health and exercising their fundamental right to vote," said Thomas Buser-Clancy, a senior staff attorney with the ACLU of Texas, a civil rights group.
Lawsuits and Mail-in Ballots
At the end of March, the Texas Democratic Party filed a lawsuit against the Texas Secretary of State and Travis County Elections in Travis County District Court to protect mail-in vote access. The party's website states the lawsuit was to demand a declaratory judgment that allows all eligible voters who believe their health is in danger under the threat of COVID-19 the ability to cast their ballot by mail if they so choose.
Despite the pending lawsuits, Harris County is moving forward with $12 million in additional funding to roll out and expand ballots by mail for the July 14 primary runoff, and perhaps for millions of Texas voters in the November presidential election.
Harris County Attorney Vince Ryan stands by the legal advice given to Harris County officials that a lack of immunity to COVID-19 constitutes a legitimate physical condition.
Ageism and Mail-in Ballots
In San Antonio ageism is on the table. A lawsuit in federal court for age discrimination was filed by six people between the ages of 18 and 28, who according to Texas Public Radio, claim the Texas election code violates the 26th Amendment's protections against discrimination based on age because  people 65 and older can request a mail-in ballot but younger voters can't. 
What Do Voters Want?
"We need a federal law that gives all voters the right to request a mail-in ballot," Renato Mariotti, a legal commentator on major national news events, wrote on in a tweet on Saturday.
"Mail-in ballots should be thumb printed. This shouldn't be a problem since you can't get an ID in Texas without it," one tweet said on Sunday. Here is a sample of reactions to Paxton's letter.
We will likely see MASS disenfranchisement in the Nov election because Republicans continue to block mail-in ballots in light of COVID-19 and Democrats fail to do anything about it !!

COUGH Texas COUGH

— Isabel (@isbllyisswlly) May 2, 2020
@KenPaxtonTX is engaging Texas GOP voter suppression tactics by stating that fear of getting COVID-19 is an "emotional" issue, not a "physical" one. Therefore, he opines it invalid for mail-in ballot. And threatens criminal charges for those who do.https://t.co/3p8mR2QIq7 https://t.co/kir4vySG5e

— Yombe (@Yombe) May 2, 2020
Imo. Mail-In ballots should be thumb printed. This shouldn't be a problem since you can't get ID in texas without it

— 😷Marita COVID-rubias🤧 (@MaritaBeans) May 3, 2020
In Texas, voters over 65 are the only ones able to access mail-in ballots.

This is constitutionally not right under any circumstances. #VoteByMail https://t.co/owUQsdKXDl

— Rock the Vote (@RockTheVote) May 4, 2020
Our Texas AG just ruled that this pandemic is not enough justification for statewide mail-in ballots.

— Sarah (@Plasticdoe) May 2, 2020