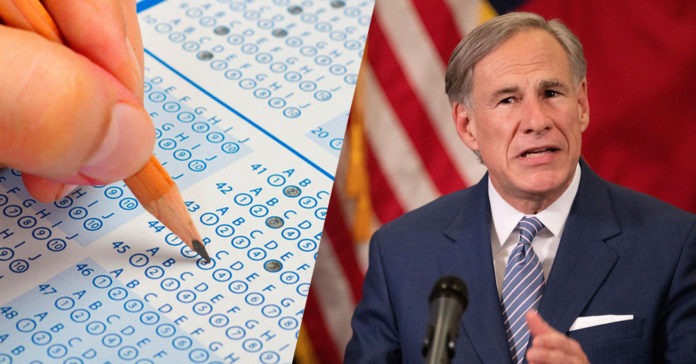 The state of Texas has decided to waive passage of the State of Texas Assessment of Academic Readiness, or STAAR test, as a condition of advancement to the next grade level for the upcoming school year.
Typically, 5th and 8th graders must take the STAAR test until they pass in order to be promoted. Under the waiver announced by Gov. Greg Abbott on Monday, the STAAR will be administered one time in May for grades 3-8, but it will not be the deciding factor on grade promotions. Instead, the traditional A-F rating system will be used to judge performance.
"This will be a uniquely challenging school year, therefore, this year is about providing students every opportunity to overcome the disruptions caused by COVID-19," stated Abbott in a news release announcing the decision. "By waiving these promotion requirements, we are providing greater flexibility for students and teachers, while at the same time ensuring that Texas students continue to receive a great education — which we will continue to measure with high quality assessments."
Waiving the STAAR test has been requested by numerous teachers' groups, including Texans for Public Education. In a recent RA News opinion piece, TPE founder Troy Reynolds called it "ignorant" for the state to be considering keeping STAAR in place this year.
Students are currently focused on low-level needs in a national disaster, yet [Texas Education Commissioner] Mike Morath, the commissioner of education, included in his presentation to superintendents that "accountability will return for 20-21," Reynolds wrote. "He is so focused on testing that when asked by the State Board of Education if a waiver has been filed with the U.S. Department of Education on federal testing, his answer was simply that he did not know."
On Monday, Morath had a different answer.
"Parents deserve to know how well their children have learned grade level knowledge and skills in reading and math, especially in a time when education has been substantially disrupted," he said. "And educators use this valuable information to make adjustments to support students the following year. But there is no benefit to our children by requiring them to repeat a year based on a single test score given the disruptions of COVID, so we are waiving the grade promotion requirements from STAAR this year for our students."STAAR testing was also waived last spring when Texas school districts were closed to in-person instruction due to COVID-19. Under TEA guidelines issued two weeks ago, school districts were allowed to continue conducting virtual instruction for up to the first eight weeks of the fall semester.