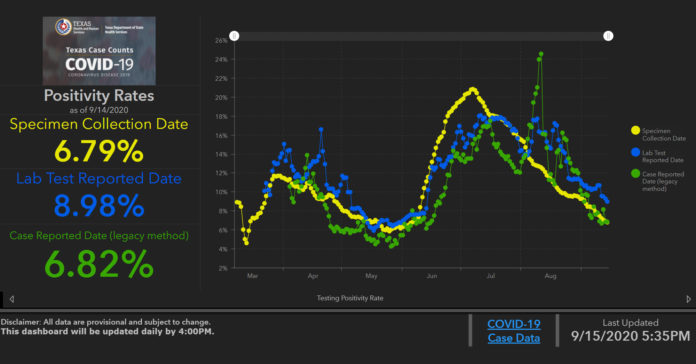 At one point in mid-August, the state was reporting a COVID-19 positivity rate of more than 24%. In reality, the percentage of tests coming back positive was about half that amount. The discrepancy was due to errors in the state's method of tracking the data. Adjustments have now been made, and they show COVID-19 has been on the decline in Texas since peaking in July.
As of this week, visitors to the state's tracking site will see three lines on the positivity rate graph. The yellow line, which is new, tracks the date specimens are collected and can be relied upon for gauging whether COVID-19 is trending up or down in Texas. The blue line shows when the lab tested the specimen. The green line is the original tracking method and represents the date the state received the test results from the labs. In the past, the labs got backed up, sending a data dump of thousands of test results dating back weeks and months all at the same time, thus skewing the trend lines and providing an inaccurate depiction of what was really going on. Moving forward, all test results received will be logged by when the test occurred, eliminating anomalies caused by delays in reporting the test results to the state.
"These enhancements are part of our continuous effort to improve the information we present," said Dr. John Hellerstedt, Texas Department of State Health Services commissioner. "As the COVID-19 pandemic evolves, so must the data we share. Our information must provide the clearest possible picture of what is happening now and what has occurred in the past. The trends in this and other data shape our understanding of what to expect in the future."
As of Wednesday, all three trend lines are under 10%, with the yellow line sitting at 6.79%. The World Health Organization recommends that states maintain a positivity rate of 5% or less for at least 14 days before considering relaxing restrictions. Gov. Greg Abbott has cited 10% as the threshold he wants to see. Texas' rate dipped below 10% on Aug. 21. 
Abbott has hinted several times that he will be announcing loosening of restrictions he put in place in June, but he has, so far, not moved ahead. In the meantime, bars remain closed, restaurants continue to operate at 50% occupancy, visitations at nursing homes are restricted and Texans must wear masks in public.