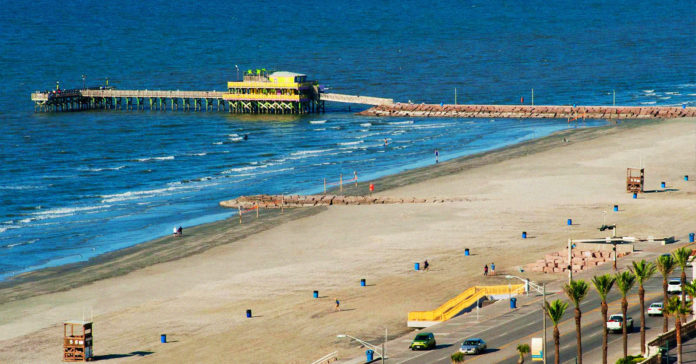 Texas beaches reopened Friday. The Lone Star State's beaches aren't all exactly a tropical paradise, yet Texans have a lot of love for them.
A lack of clarification from Gov. Greg Abbott's office about beaches reopening led to confusion, and Galveston County and city officials spent two days trying to get answers to questions from the public, the Galveston Daily News reported Wednesday. 
In his news briefing Monday, Abbott discussed how businesses would reopen under phase one of his plan and said that being outside is permitted,but he didn't mention beaches. 
The beaches on Galveston Island had been mostly closed since March 29. Galveston Mayor Jim Yarbrough felt strongly about that.
Yarbrough explained that it's not just what happens on the beaches that worries him — it's a matter of what happens when all the beachgoers visit restaurants, shops and local attractions, the Houston Chronicle also reported Wednesday. He also was concerned about people gathering and continuing to social distance to prevent exposing visitors and residents to the coronavirus. 
A statement about beaches opening on the Galveston county website states,"The Governor's Office has also issued Executive Order GA-18, which encourages outdoor activities so long as necessary precautions are maintained to minimize the transmission of COVID-19 and to minimize in-person contact with people who are not in the same household. Therefore, the GLO (General Land Office) is rescinding its approval for local governments to close beaches due to COVID-19, effective April 30, 2020 at 11:59 p.m."
City of Galveston Parks and Recreation department workers removed stairway barriers and barricades along the seawall Thursday, KPRC reported.
South Padre Island has issued a list of recommendations to keep Texans safe if they visit businesses that are also reopening at 25% occupancy. Those are in keeping with the governor's order. 
Nueces County Judge Barbara Canales said that for Corpus Christi beaches to stay open, people need to spread out and abide by social distancing guidelines, KXXV reported Tuesday. The judge visited the beach last Saturday and Sunday.
"Our beaches were jam-packed," she said. "It's no secret because it's been on everybody's social media."
Are you thinking of surfing at Port Aransas beaches this weekend? They are open, but overnight camping is not allowed at this time.
Meanwhile, dining tables are being set up in Galveston County for guests. Check the county website before heading to the beach for guidance. Here's the Recommended Guidelines for Societal Restoration from Galveston County.
As rules loosen across Texas, be sure to bring hand sanitizer with your beach gear if you go to the beach.