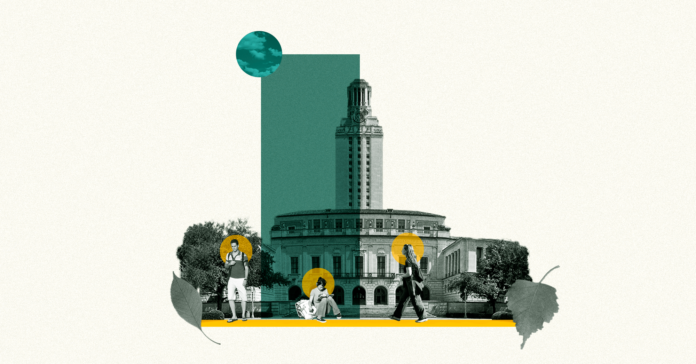 Texas colleges and universities are not letting the pandemic stall their calendars, but some adjustments and flexibility will be introduced. Some colleges are utilizing technology and new digital learning options for students and getting prepared for social distancing on campus. Or they are taking the drastic step of having students return to campus and then leave again after Thanksgiving.
The University of Texas at Austin will start the fall semester as planned on Aug. 26, but students will not return to campus after they leave for the Thanksgiving break.
"With COVID-19 still expected to be active this fall, we hope to avoid the possibility of students becoming infected during the Thanksgiving break and then spreading the virus to classmates upon their return after Thanksgiving. We are still developing the details for how this new schedule will affect course syllabi, residence hall living and other key campus functions," Gregory L. Fenves, president of the University of Texas at Austin, wrote in a letter. "We will continue to provide additional information as we move forward."
Masks will be worn throughout the summer months, and all UT employees who work on campus must cover their faces with a mask or cloth covering at all times unless they are in a private office or space. 
"There is still a very real risk of the virus spreading, and we must take appropriate precautions," Fenves said.
The university is preparing to create a central student portal where students can engage in virtual events with one another.
According to the letter, online learning will be amped up, and the university is preparing to explore other approaches to experiential learning while improving safety in teaching labs and studios.
The university is asking the UT community to participate in a survey to gather feedback about the changes that are ahead. The Undergraduate and Graduate Student Survey will be administered Wednesday.
The letter also states, with student life in mind, a housing, food, and facilities task force is providing data to prepare social distancing and masking guidelines.
Rice University in Houston has been communicating with students and faculty throughout the pandemic and will start on schedule in mid-August.
In a letter to Rice students regarding summer and fall planning, President David Leebron and Dean of Undergraduates Bridget Gorman explained the adjustments that are to be expected amid COVID-19 precautions for the fall.
The adjustments include: Delivering all classes with the option for remote learning and all sessions will be recorded to enable those in different time zones as well. With the second wave of COVID-19 in mind, the university is taking steps to shorten the number of weeks of the fall semester and will cancel the two-day fall recess, enabling the university to end classes before Thanksgiving. Undergraduate students will be allowed to stay in the college until mid-December. The goal is to forego having to travel for the Thanksgiving holiday.
The university will be adopting safety and social distancing measures including protocols for COVID-19 testing and contact tracing. Large gatherings will be prohibited on campus, and class schedules may be staggered with social distancing measures in mind.
For Rice's international students, the school will be more open than before to allow new students to start at the university mid-year.
By the end of June, the university will provide a mask for every student, employee and visitor to use while on campus.
Baylor University is planning to start the fall semester on Aug. 24.
"We will be preparing for a 'new normal' during the fall semester, and we anticipate many adaptations and accommodations in the weeks and months ahead to our normal fall activities and schedule as we face continued challenges from COVID-19," the school's president, Dr. Linda A. Livingstone, said. "While we cannot eliminate all risks, we intend to mitigate these risks in every reasonable way we can. Over the summer, we will work diligently to refine our preparations to create a safe, productive educational environment, but above all, the health and safety of our students, faculty, staff and guests must lead our decision-making regarding all activities. These include adapting our classroom and residential life models and on-campus activities, as needed, while continuing to offer the distinct on-campus college experience for which Baylor is known."
A news release on May 19 from Provost Nancy Brickhouse, Ph.D., included academic adjustments.
"We will update our large classrooms over the summer to incorporate 'lecture capture' technology, including cameras and instructor microphones, that will allow faculty members to create recordings of in-person classes. This system will allow integration with Canvas and utilization of many video conferencing platforms," the letter said.
"We are in communication with families, and we will continue to keep them updated throughout the summer on the University's specific plans for fall," said Lori Fogleman, assistant vice president for media & public relations at Baylor University, on Tuesday. "Also, some incoming freshmen are getting a jump start on their Baylor classes from home this summer through Baylor's online Summer of Discovery, which provides students with an innovative collection of discounted summer course bundles taught online by Baylor faculty."
Texas A&M University plans to open as planned this fall.
"While we know online classes are an option if needed, we plan to be fully open and operational, with dedicated faculty and staff leaning into preparing for all the requirements necessary to do so safely across academics, athletics and campus activities," Texas A&M President Michael K. Young said in a letter. "We will continue to keep you updated in detail for plans to open responsibly, and will, of course, follow updated federal, state officials and health care guidance that dictate our ability to do so."
The University of Houston's president Renu Khator said Thursday, "We will be back on campus in the fall for face-to-face classes, with safety protocols including social distancing, sanitization and practicing good hygiene."
Khator also asked the UH community to share their thoughts and perspectives on reopening here. People are encouraged to wear masks and to continue social distancing.
Khator, UH's vice president for intercollegiate athletics, the head basketball coach and the head football coach are all taking 10% salary cuts for six months since the school has lost revenue.
Here's how several other colleges and universities are preparing for the fall.