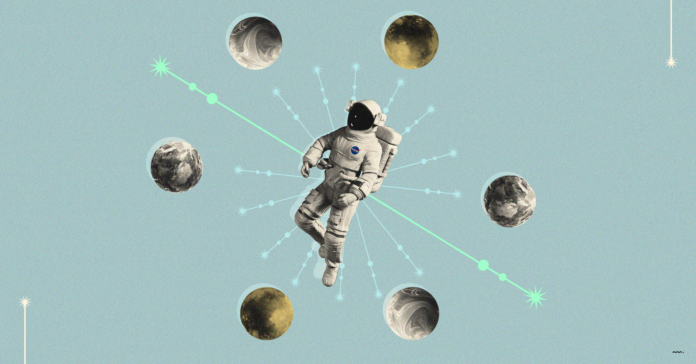 Tomorrow, Americans will be able to look to the sky (or flip on a news channel) for a change in perspective, as a new era in human spaceflight begins.
Two weeks ago, Texans looked skyward to see the U.S. Navy Blue Angels fly over the state. It was a welcome distraction from endless news tickers about new unemployment highs and death tolls.
For the majority of Americans, they'll never forget these last few months. But in the moment, it seems we need something to remind us there's more beyond the world as we know it today. There's hope, and it's coming in the form of history of another kind happening before us, propelling our world further and faster into incredible exploration and development.
"This mission moves us forward from just whole countries being able to do space exploration on our planet and beyond, to being able to include companies like SpaceX in the work of space exploration," NASA Johnson Space Center News Chief Kelly Humphries said. "We hope it will inspire people watching tomorrow to become explorers as well. This is an amazing start to a new chapter in human space exploration."
NASA and SpaceX will launch the Crew Dragon and two astronauts, Robert Behnken and Douglas Hurley, from Kennedy Space Center to the International Space Station on the world's first reusable spacecraft.
This will be the first mission since NASA's Space Shuttle Program ended in 2011, and it is critical for the future of commercial space flight. SpaceX will be able to demonstrate how commercial spacecraft can safely transport crews into low-Earth orbit and to and from the ISS.
This is also SpaceX's last test flight for the NASA Commercial Crew Program, and Behnken and Hurley will return with important data on the performance of the Falcon 9 rocket, Crew Dragon spacecraft, and ground systems, as well as in-orbit, docking and landing operations. 
Being able to travel on a commercial spacecraft will allow crews expanded benefits, including additional research time and more ability for discovery on the ISS laboratory, which helps NASA understand and overcome the challenges of long-duration space flight.
While docked to the space station, Behnken and Hurley will join the Expedition 63 crew already on board the orbiting laboratory: astronaut Chris Cassidy and cosmonauts Anatoly Ivanishin and Ivan Vagner.
Humphries emphasized that in addition to this being the first launch back into space in almost a decade, this is also a reflection of just how far technology has advanced to make the next steps in space exploration possible.
"It's a really exciting time in NASA history to be working on this launch and working in space flight at all," said Humphries, who grew up watching Apollo's moon launch and followed a passion for space into a career. "This generation could very likely be the ones to see someone set foot on another planet, like Mars. We're launching the rocket from the same launchpad that launched Apollo in the 1960s, but just think of how much technology is in your watch or phone. The technology you hold in your hand far outweighs what Apollo was capable of. Even our ability to monitor tomorrow's weather for the launch has transformed and adapted dramatically."
NASA employees have been hard at work preparing for this launch, but they've also been serving the country as the pandemic developed. In addition to space exploration, NASA has developed some technology that can be used at home on earth, too.
"Since the pandemic has come into our lives, NASA has been working on a number of initiatives in response," Humphries said. "We've had a team at the Jet Propulsion Laboratory working to develop a portable ventilator system, among many other important research projects, and providing some inspiration to Americans at home. We take such pride in this work and consider this such a priority to get this mission off the ground. We're investing in the future of space exploration by making this a national priority."
This is not the first time Americans have been able to watch history unfold even in the middle of an uncertain and turbulent world. The Apollo 11 mission, when Neil Armstrong and Buzz Aldrin were the first people to set foot on the moon in 1969, happened in the middle of the Vietnam War.
Crosby McDowell, an infantry captain assigned as a military advisor to the 4th Battalion of the 51st ARVN Regiment, shared his memories of the moon landing while he was overseas during the war, remembering that "the war appeared to stop."
"There seemed only to be the sound of constant flies and an occasional crackle of the radio mixed with the humid smell of sweat and unwashed bodies as we lay crouched in the sun, looking up and the moon, listening to the radio transmissions of Buzz Aldrin and Neil Armstrong," McDowell recounted in a contribution to the Tucson Star. "If for me, Vietnam was ever surreal, it was at that time, because as Neil Armstrong opened the hatch the war stopped dead in its tracks at about 10:30 a.m., July 21, 1969 in RVN." 
Humphries, who was still a teenager and not of draft age during the Vietnam War, remembers the juxtaposition of watching the launch and how the world was so different than it is now — but in some ways, very similar to 2020.
"That time was more than the Vietnam War. There were so many other important struggles and movements happening in the world that year — important civil rights movements, struggles in the higher education system, wondering what the future of the country would be," Humphries said. "It's hard to compare today and then. For some, the world now is what they hoped it would be then. For others, there's still a lot that they hope to see still happen. Either way, it's an incredible time to be experiencing history as it happens. There is so much coronavirus coverage happening right now, as it should be, and the stories are both uplifting and sad. But tomorrow we're looking forward to telling another kind of uplifting and inspiring story."
On the eve of the launch, both excitement and emotion abound. The launch isn't happening without the acknowledgment of the weight of the coronavirus and its effect on the nation. Still, the thrill of possibility rises above it, for both NASA administrators and Americans, including Humphries, because their focus is on what this mission will mean for the future of the world.
"We would love to have this (press conference) room full. We would love to have reporters; we'd love to have it filled with space enthusiasts," NASA Administrator Jim Bridenstine said in a NASA press release. "Our country has been through a lot. But this is a unique moment when all of America can take a moment and look at our country do something stunning again, and that is to launch American astronauts on an American rocket from American soil to the space station."

To watch the launch tomorrow, tune in to NASA TV starting at 11:15 a.m. Central time.  The actual launch is scheduled for 3:33 p.m. Central time.