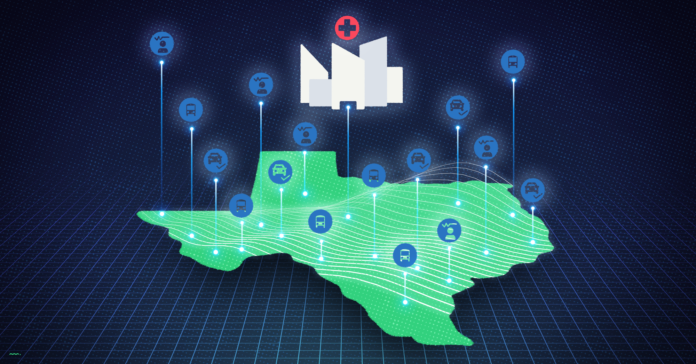 Texas now has an interactive coronavirus testing map to help Texans find a nearby testing location. 
Gov. Greg Abbott announced last week that Texas would have such an interactive map. The Texas Division of Emergency Management maintains the map, which is a collaboration from the TDEM and the Texas Department of State Health Services.
The interactive map is part of an effort to expand COVID-19 testing throughout Texas. It includes drive-through, walk-in, public, private and mobile COVID-19 testing sites. Over 340 testing sites are currently shown on the map. 
"By using this map, Texans will have access to pertinent information on a variety of test collection options that will help fulfill testing needs in communities across the Lone Star State," Abbott said in a press release.
On the interactive digital map, you can search using your home address or your current location to find a coronavirus testing site. A car icon means it is a drive-thru testing site and a graphical representation of a person means it is at a clinic. An icon of a bus is for mobile testing sites, what Seth Christensen Chief of Media and Communications at Texas Division of Emergency Management, calls a rover test collection site. These roving sites are a state effort to provide more testing throughout the state, especially in rural areas.
To find a mobile site, look for the green or orange colors on the interactive map.
"We've had 2 million clicks to access the map. We want to see more people using it. We want it to be the main place people go," Christensen said Wednesday on the phone.
The roving test sites have served 75 Texas counties so far, he said. There are plans to make people in rural communities aware of upcoming testing in their areas.
When you click on the icons, you will find information about the types of testing locations, the hours they are open, directions, and also a link to a website for that location to learn more about what to bring with you.
Some locations ask that you contact your doctor first, but other locations do not require pre-screening for testing.
For example, a drive-through testing site at Forest Brook Middle School in Houston doesn't require a physician's referral, however, another location only a few minutes away at Legacy Community Health does. UT Physicians has drive-thru testing you can do from your car, although before you show up you must have an order from your health care provider.
Once on the map, a notice appears explaining that not all the information may be accurate or list all the testing locations throughout Texas. The notice explains the information is sourced from the websites of local governments and health care providers. Therefore, calling ahead and checking the details of a location's requirements are good ideas. 
The State of Texas is partnering with local officials across the state to bring #COVID19 mobile test collection teams to a community near you.

Find a public/private site near you by visiting: https://t.co/HVfnvE1tnd@TXMilitary @TexasDSHS @TXEMTF @txextension @TxDPS @TPWDnews

— Texas Division of Emergency Management (@TDEM) April 29, 2020