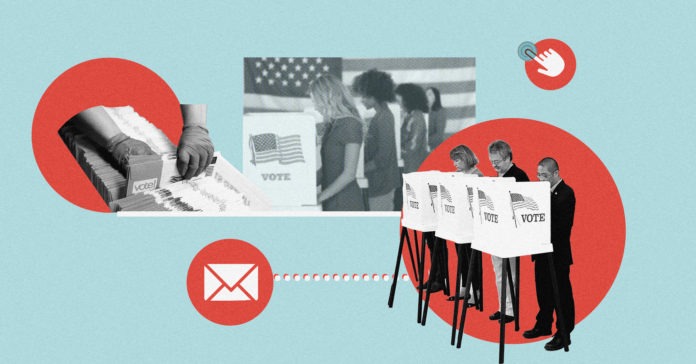 With the November election just two and a half months away, county election officials across Texas are scrambling to find safe polling locations and the people to staff them. They are also exploring new ways to increase voter access during the pandemic, including the idea of drive-thru voting.
There's a lot more planning involved with this election. Plus, with schools, grocery stores and nursing homes now off limits due to the pandemic, some creativity is also required.
Bexar and Harris Counties are looking at mega vote centers. It's simple — using a bigger location provides more space to spread voters and workers out more. Harris County wants to use the massive NRG Arena. The AT&T Center San Antonio is the selection for Bexar County. 
Lobbies, hotel ballrooms, public areas in apartment complexes — all are on the table as possible polling locations.
Another unconventional approach is drive-thru voting.
Harris County gave this option a test drive on the last day of early voting in July. It was the first time in Texas history that voters were offered the opportunity to cast their ballots without having to leave the comfort and safety of their cars.
"Of the 200 voters who voted at the drive-thru voting site, 141 completed an optional survey reviewing the new service," the Harris County Clerk's Office reported in a news release. "Some wrote that drive-thru voting was 'easy to use' and others cited how the service 'made voters feel safe.' One respondent even wrote that it was their 'best voting experience EVER!'"
Fear of exposure to COVID-19 was the top reason for using drive-thru voting. When asked why voters chose to vote using the drive-thru voting as opposed to the traditional walk-in voting method, 58% cited worries about health and safety in the midst of the pandemic. Other frequently mentioned reasons included the convenience of the service and pure curiosity about the experience.
Other counties are now giving the idea a hard look.
Williamson County Election Administrator Chris Davis told NPR, "We are considering sites that we can have kind of a robust drive-through voting," [maybe] a defunct or closed bank with several teller lanes … perhaps parking garages. Something that can give one-stop service."
There are a lot of efforts underway to get voters registered. That process is also getting a hard look for improvements that will enhance safety.
Just this week, Travis County launched contactless voter registration using the Text2Register tool that allows users to register to vote in any of the state's 254 counties. 
"The program became so well known that people outside of Travis County tried to use it, but it was only designed for our county," said Bruce Elfant, the Travis County voter registrar and tax assessor-collector. "What we are offering now is Text2Register 2.0, giving everyone the opportunity to safely register to vote."
Here's how it works:
Text "Register" to 48683.
Use the link provided to fill out the voter registration form.
The tax office mails you the filled out voter registration form.
Sign and date the form. Place the form in the provided postage-paid envelope.
Drop the envelope in any U.S. mail postal box or at a post office.
Voting during the pandemic is expected to take longer and require more staff due to enhanced safety precautions. There was a shortage of poll workers for the July primary runoffs. Traditionally, poll workers tend to be part of the older demographic most at risk for COVID-19. Many of these workers declined to help with the July primary runoffs, causing a shortage of poll workers. The high turnout expected for the November election will necessitate many more workers than were needed in July.
"With everything going on, I have had some of them that have told me after the primary that they just wasn't gonna do it anymore. Some of my workers have said for health reasons they needed to quit," Wichita County Clerk Lori Bohannon told a Wichita Falls news outlet.
Because poll workers can drop out or become sick on voting days, county officials have to keep a list of alternate workers.
Harris County, the state's largest county, needs thousands of poll workers for its 800 voting centers. They also need help staffing early voting locations.
"We expect a high turnout for the upcoming general election. Early predictions indicate that more than 65 percent of the 2.4 million registered voters in Harris County will cast a ballot in November," said Harris County Clerk Chris Hollins. "We need more than 1,000 election workers for the early voting period — which has been extended to three weeks – and more than 8,000 election workers for Election Day."
Early voting begins Oct. 13 and extends through Oct. 30. Voters will have an extra week to cast early ballots due to the pandemic. Election Day is Nov. 3.
Important Dates to Keep in Mind:
Monday, Oct. 5 Last Day to Register to Vote
Tuesday, Oct. 13 First Day of Early Voting by Personal Appearance
Friday, Oct. 23 Last Day to Apply for Ballot by Mail (received, not postmarked)
Friday, Oct. 30 Last Day of Early Voting by Personal Appearance
Tuesday, Nov. 3 Election Day
Wednesday, Nov. 4   Last day  your ballot can be received. (It must be postmarked by 7 p.m. on Nov. 3.) Check out Reform Austin for more information on becoming a poll worker.